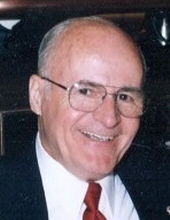 Obituary for Albert Wayne Thomas
Albert Wayne Thomas, 83, passed away peacefully surrounded by family on August 12, 2021 at his home in Gettysburg, PA. He was born November 23, 1937, in Newport, OH and was the son of Hallie Burton and George Thomas.

Wayne served with the U.S. Air Force for 4 years. He joined the Marietta Police Department in 1962 and served as an officer over 30 years until retirement.

Wayne has two sons, Doug and Kevin Thomas of Marietta, OH to his first wife, Corrine, who preceded him in death (1965). He has 3 step-daughters, Laurie Woods of Gettysburg, PA, MaryBeth Thompson of West Chester, PA, and Becky Kint of Biglerville, PA, from his late wife Carolyn (Enzie) Thomas whom he was happily married to for 37 years. Surviving, in addition to his children, are many grandchildren including Walker Woods and his wife Carly of Gettysburg, PA, Lacy Woods and fiancé Matthew Hochkammer of Winchester VA, and Tyler Thompson of West Chester, PA, as well as several great grandchildren. Also surviving is his brother, Robert Thomas of Marietta OH.

The family wants to thank Wayne's many friends from the Gettysburg Walking Club and his neighbors for their outpouring kindness and friendship.

A celebration of life for immediate family will be held in Ohio in November. In lieu of flowers, memorial contributions to the Gettysburg Hospital Foundation's Cancer Patient Help Fund would be appreciated. Donations can be sent to Gettysburg Hospital Foundation at P.O. Box 3995, Gettysburg, PA 17325.
Read More
Events