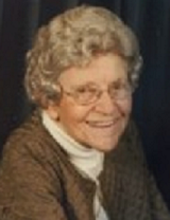 Obituary for Ann Dunbar Tiedemann
11/9/1928 to 6/11/2016

Ann Dunbar Tiedemann of 60 Ski Run Trail, Fairfield, PA, passed away Saturday morning June 11th, at 9:47AM at York Hospital of complications following surgery. Ann was 87 years old, born in San Mateo, California to parents, Kenneth Lewis Dunbar and Louesa Willson Dunbar, on November 9th, 1928, where she remained a native until moving to Fairfield, PA in 2006 with her late husband Herbert Villiers Tiedemann, to be near family.
Ann spent her life employed in the most demanding job of all, housewife, and ultimate mother of four and grandmother of nine. She also was an avid animal lover and was a very special mom to many four legged children, feline and canine. The quintessential mom, she gave everything and did everything for her children. From working the entry desk at swim meets for over ten years, driving her kids to practice twice a day and getting up at the crack of dawn to do so, she also got up early to drive the children on their morning paper routes.
Ann had a strong Faith in God and was involved for many years in Job's Daughters, as a member and Past Honored Queen of Bethel #7 in Burlingame, CA. Remaining involved later with her daughter Ann, as Past Bethel Guardian of bethel #170 in Redwood City, CA, Ann also was a member of Eastern Star – Unity Chapter #305 in South San Francisco, CA. Over the past six years she spent many happy hours as one of the beginning members, along with her son John of The Intersection Church in Gettysburg, PA, where she was affectionately called "Mama Ann".
Ann is survived by her four children: Kenneth Richard Tiedemann, John Dunbar Tiedemann, Ann Piatak and Arthur Reeves Tiedemann, her nine Grandchildren: Lauren Tiedemann, Ellen Tiedemann, Kirsten Piatak, Micky Piatak, Louesa Piatak, Grant Tiedemann, Julie Tiedemann, Megan Tiedemann and Kelly Hyland, and her precious Siamese cat Sandy, and adopted doggie, Border Collie, Margaux.
Ecclesiastes 3:4 says, "A time to cry and a time to laugh, a time to grieve and a time to dance." We grieve for Ann now, but soon we'll laugh remembering her beautiful, amazing smile, her quick wit, and how she lived life as a dance. This world is a better and more beautiful place for those honored and blessed to have shared the dance with her.
God Bless you Ann, you'll always live in our hearts!
A Celebration of Ann's life will be held on Saturday, June 18th, at 3:00 PM at The Intersection Church, 1980 Baltimore Pike, Gettysburg, PA 17325. It will be a casual affair of remembrance and love, followed by a light dinner. Inquires; www.theintersectionchurch.net
In lieu of flowers, the family requests donations be made to a Living Special Needs Trust for her Grandson Micky Piatak, to "Micky, Supplemental Needs Trust" c/o Ann T. Piatak, 676 Meyers Lane, Paradise, CA 95969. Or to PAWS, (Performing Animal Welfare Society) at 1065 Pool Station Road, San Andreas, CA 95249.
Read More
Previous Events
Service
The Intersection Church
1980 Baltimore Pike
Gettysburg, PA 17325