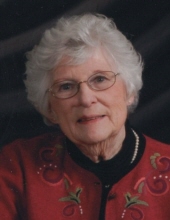 Obituary for Ann Fortenbaugh Eicholtz
Ann Fortenbaugh Eicholtz, 87, died December 18, 2022 at The Brethren Home at Cross Keys Village. Ann was born in her family's home in Gettysburg and was the daughter of Dr. Robert Fortenbaugh and Lena Schweinberger Fortenbaugh.
Ann was predeceased by her husband of 58 years, Paul S. Eicholtz, who passed away in 2016. She is survived by a son Robert F. Eicholtz and his wife Cynthia; daughter Susan (Eicholtz) Pyron and her husband William; and six grandchildren: Amy, Christopher (Haley), Cole (Katelyn), and Blake Eicholtz; and Paul Wesley (Noah) and Samuel (Deiciane) Pyron; and one great-grandson, Hunter Paul Eicholtz. She was extremely proud of and involved with her family.
She was predeceased by her brother Robert Fortenbaugh and sister Ruthe Fortenbaugh Craley. She is survived by many nieces and nephews who were each very special to her.
Ann graduated from Gettysburg High School in 1953 and attended Gettysburg College where she sang in the College Choir and was a member of Chi Omega. She graduated from Hood College with a Bachelor of Arts in 1957 and earned a Masters of Education from Towson State College in 1975.
Ann's career and passion was children. In addition to being a devoted grandmother and great-grandmother, Ann's professional career was in education, with a specialty in early childhood education. She taught kindergarten and then third grade before advancing to administrative positions with the Baltimore County Board of Education. She was the coordinator of the Gifted and Talented Program for the county before becoming Vice Principal at Pinewood Elementary and subsequently Riderwood Elementary. She became Principal at Pleasant Plains Elementary and subsequently Sussex Elementary, until her retirement in 2000.
In her retirement, Ann and her husband returned to the Gettysburg area. Ann was a member of Christ Evangelical Lutheran Church in Gettysburg. She loved entertaining – particularly well-remembered are Thanksgiving dinners, Christmas parties, and backyard barbeques. She also enjoyed professional sports, notably the Orioles, and playing bridge – she enjoyed the company of many across the bridge table and various bridge groups in Timonium, MD; Gettysburg, PA; and at Cross Keys Village.
Arrangements are being handled by Monahan Funeral Home. A visitation will be held on Friday, January 6, 2023, from 2-4 p.m. and 6-8 p.m. at the Monahan Funeral Home, 125 Carlisle St., Gettysburg, and a memorial service on Saturday, January 7 at 11 a.m. at Christ Evangelical Lutheran Church, 44 Chambersburg, St., Gettysburg.
In lieu of flowers, the family asks that memorial contributions be made to Christ Lutheran Church Legacy Fund, Christ Lutheran Church, 44 Chambersburg Street, Gettysburg, PA 17325 or online at www.christgettysburg.org or Gettysburg College in support of the Gerberich/Fortenbaugh endowed fund for The Robert Fortenbaugh Memorial Lecture (300 N. Washington Street, Gettysburg College, Box 426, Gettysburg, PA 17325 or www.gettysburg.edu/makeagift).
The family also asks you to read or gift a book to a child this holiday season in Ann's memory. Online obituary and condolences available at monahanfuneralhome.com.
Read More
Previous Events
Visitation
Monahan Funeral Home
125 Carlisle Street
Gettysburg, PA 17325
and 6:00 PM till 8:00 PM
Service
Christ Lutheran Church
30 Chambersburg Street
Gettysburg, PA 17325
Cemetery Details
Location
Evergreen Cemetery
799 Baltimore St.
Gettysburg, PA 17325