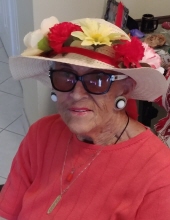 Obituary for Ann (Guise) Settle
Ann (Guise) Settle passed away on June 19th, 2019 in Bradenton, Florida after a short-term illness. She was born in Gettysburg, Pennsylvania on July 24th, 1930, daughter of the late Howard and Bernice Snyder Guise. She was the loving and devoted wife of the late C. William 'Slug' Settle of Biglerville, PA She is survived by her children, Tracy Settle and wife Sheri Stotz Settle of Bradenton, Florida, Stacy Hunt and husband Harold Hunt of Valrico, Florida, grandchildren Meg Settle of Bradenton, FL, Justin Hunt and wife Ashley, and Kayla Hunt of Valrico, FL; great grandchildren Sean and Hailey Hunt of Valrico, FL, and brother Richard Guise and wife Diane (Balzley) of Douglassville, PA.
Ann and C. William started dating while Ann was studying music at Susquehanna University and C. William was teaching in the Upper Adams School District. While at Susquehanna, she played varsity basketball for 4 years, was selected as the May Queen her senior year, selected for the Homecoming Court for 3 years and served as a student counselor for 3 years. During this time they were chosen as King and Queen of the Holiday Alumni Dance at Biglerville HS. They were married on Christmas Eve 1952 at St. Paul's Lutheran Church in Biglerville and immediately left for a honeymoon to Florida, which presented several travel challenges due to the early evening closures for restaurants and motels. Their first 'romantic' night together was spent in the car at a rest stop along the route south.
Music was the center of Ann's professional life. After graduating with a B.S. in Music from Susquehanna University in Selinsgrove, PA in 1952, she began her teaching career in music and physical education at Bermudian Springs HS, York Springs, PA. She later taught vocal music for most of her career in the Upper Adams School District working alongside her husband, was an organist at Benders Lutheran Church, choir member, organist and Sunday School teacher at St Paul's Lutheran Church, and Director of the Children's Choir, senior choir member and substitute organist at the Gettysburg Presbyterian Church. After retiring in 1982 and spending the winter months for 30 years in Bradenton, Florida, she was the church organist at Good Shepard Church of the Brethren in Bradenton for 25 years, and founded, directed and accompanied several mixed sextets and octets, providing concerts and programs at several country clubs and senior living homes in the Bradenton/Sarasota area.
She and C. William served as chaperones for three Pennsylvania Ambassadors of Music trips to Europe along with their two children, as well as directed several school and adult musicals at Biglerville HS throughout her teaching years. She taught private piano, organ, vocal and instrumental lessons and was a member/officer of the Gettysburg Community Concert Association for many years. Other volunteer work included Secretary/Member of the local chapter of AAUW, PMEA and the Adams County Music Teachers Association, Elderhostel coordinators and hosts with her husband during the summers in PA, tour guides for the Apple Museum in Biglerville and assistance with the Meals on Wheels program in Adams County.
While she spent most of her married life living and raising her family on Yellow Hill between Biglerville and Arendtsville, Ann and C. William moved to Homewood at Plum Creek in Hanover in the spring of 2006 and lived there until C. William's passing in October of 2016. Ann then moved to Bradenton, Florida on November 1st, 2016 to be closer to her son and daughter's families and enjoy year-round warm weather and familiar friends and sights. She continued to enjoy local musical events, including leading a singing group in her assisted living facility, eating out, visiting the beach and spending time with her family on a daily basis. She continued to present a large smile when greeted and was always caught wearing brightly colored and matching clothing whenever out in public view. Her outlook on life was always positive and her effervescent personality will be truly missed by her family, friends and acquaintances.
Funeral arrangements for family and friends will be handled by the Monahan Funeral Home and are scheduled for later this summer, online condolences may be made at monahanfuneralhome.com. Interment will be in the Biglerville Centre View Cemetery alongside her husband of 64 years.
Memorial gifts may be made to the C. William & Ann Settle Fund at Adams County Community Foundation, 25 South 4th Street, Gettysburg, PA 17325.
Read More