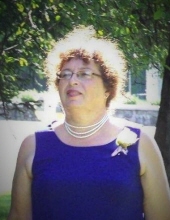 Obituary for Anne Marie Nygard
Anne Marie Nygard, 65, Gettysburg, PA passed away on Friday, October 15, 2021 at the Gettysburg Hospital.

She was born July 26, 1956 in New Brunswick, NJ the daughter of the late John Fazekas, and Anne Gunia Fazekas. Anne is survived by her husband, Ernest Nygard, and son & daughter-in-law, Alex & Danielle Alameda of Bernardsville, NJ.

Anne was attending the Living Hope Orthodox Presbyterian Church in Gettysburg. She graduated Magna Cum Laude from Embry Riddle University in Daytona Beach, FL with a degree aa an Aeronautical Engineer. Later, she became a Personal Banker in Princeton NJ, and finally a Stock Transfer Agent with Equiserve/Computershare in Edison NJ.

In addition to her husband, son & daughter-in-law, Anne is also survived her sisters and brothers, Audrey Schmitt, Kathy Perry, Joanne Kimmel, John Fazekas, of late Ed Fazekas, James Fazekas, Joe Fazekas, and Michael Fazekas.

A Celebration of Anne's Life will take place at a later date. In lieu of flowers, memorials can be made to charities which Mr Nygard currently supports, please ask him for details.

My dear Anne will no longer have any suffering, no more pain, no more tears, no more sorrow, no more anxiety, no more crying, no more grief, since she has undoubtedly put all her faith, hope and trust in the death, burial & resurrection of our Lord Jesus Christ, in His perfect sacrifice, payment in His perfect blood, and atonement for her sins, by His Grace, through her faith alone, without any works to offer, being reborn into the kingdom of heaven, because of her confession of faith and baptism, and is now at rest in God's eternal love, peace, and unutterable joy in His favor and presence forever. I am looking forward to meeting her again, when my time comes, to be with our Lord together in eternity.

Thank you for all your love and prayers for us, I wish for you all to join us by repenting and receiving our Lord Jesus in simply faith, into your hearts as well, Amen !!!
Read More