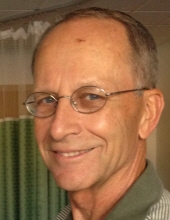 Obituary for Anthony W. Bushey
Anthony W. Bushey, born October 2, 1947 in Gettysburg, PA, died at his home in Biglerville on Friday evening, May 1, 2020 - You do the math! He survived nearly two years following a June 2018 glioblastoma diagnosis.

Tony was the son of the late Warren and Myrna (Knouse) Bushey. He was the husband of Gina (Grissom) Bushey, of Biglerville, to whom he was married for nearly 43 years.

Tony was an active, lifelong member of Zion United Church of Christ in Arendtsville. He was a 1965 graduate of Gettysburg High School and earned his Bachelor's and Master's degrees from Shippensburg State College. He taught math for 38½ years at Gettysburg High School where he also served as the assistant varsity baseball coach for many years and was the boys basketball team scorekeeper.

In addition to his wife, Tony is survived by his two daughters, Heather Bushey, of Biglerville, PA (and her companion Craig Snyder), and Brittni (Bushey) Hanna (and her husband Chris), of Gettysburg, PA; his two grandchildren, Brielle Hanna and Jace Hanna; his father-in-law, Charles Grissom, of Cashtown, PA; his brother, Conway Bushey (and his wife Linda), of Chambersburg, PA; three nephews and one niece, Brett Bushey, Dale Bushey, Charles Stottlemyer, and Cytha Guynes; three great nieces and one great nephew.

The family is planning a memorial service for Tony to be held at a later date due to the COVID-19 pandemic. The details of the service will be published in a future edition of the Gettysburg Times. The Monahan Funeral Home is in charge of the arrangements and online condolences may be made at monahanfuneralhome.com.

In lieu of flowers, the family will be establishing a scholarship in Tony's memory and suggests contributions be made/mailed to Gettysburg Area Dollars for Scholars, 125 Waterworks Road, Gettysburg, PA 17325. Please specify "Tony Bushey Memorial" in the memo line.