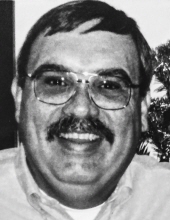 Obituary for Arthur Lee Rhoads, III
On August 9, 2019, Arthur Lee Rhoads, III, loving husband, father, and grandfather, passed away at age 61.
Art was born on September 24, 1957 in Carlisle, PA to Arthur and Betty (Shughart) Rhoads. He grew up in Gardners, PA and graduated from Carlisle High School in 1975. He graduated from Shippensburg University, where he was a member of the inaugural bowling team, in 1979. Art was very proud of owning his own business, and spent many happy years as an accountant and owner of A to Z Tax Service in New Cumberland, PA.
On June 27th, 1981, he married the love of his life, Maggie (Lee) Rhoads. In 38 years of marriage they raised twins, a son, Philip Rhoads, and a daughter, Elizabeth (Rhoads) Book. Art and Maggie also welcomed into the family a daughter-in-law, Stephanie (Golubic) Rhoads, and a son-in-law, Luke Book. Art was the very proud grandfather of five grandchildren who will miss him very much, Sadie, Claire, and Owen Rhoads, and Lucas and Jackson Book.
In addition to spending time with his grandchildren, Art loved baseball. He loved playing Little League for the Adams-Cumberland League and for Carlisle High School. His children fondly remember the many years he coached Philip's little league and teener league teams and also have good memories of watching their dad umpire little league games in Carlisle. Art loved the Phillies, and tried to go to at least one Phillies game a year for most of his life. Art also loved watching the Eagles and Penn State football games.
Art was preceded in death by his mother, Betty.
In addition to his loving wife and kids, Art is survived by his father, Arthur, a sister, Stephanie Rhoads, and a brother, Scott Rhoads. He is also survived by several nieces and nephews.
Interment will be at the convenience of the family. Online condolences may be made at monahanfuneralhome.com. Donations may be made to the SCAAP (South Central Community Action Program) of Gettysburg.
Read More