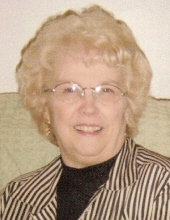 Obituary for Barbara A. Pruner
Barbara Pruner, 83, of Gettysburg, PA passed away on Friday June 25 th at the Laurel Lakes Rehabilitation and Wellness Center in Chambersburg, PA. She was the wife of the late Eugene Pruner and the mother of the late EJ Pruner. She was the daughter of the late John and May (Pearson) Votapek. She was born in New Jersey then moved to Westminster MD with her husband. She eventually became the owner and an interior decorator/designer for Abbey Interiors in Westminster MD until she retired. Her passion was in designing and decorating and loving her dog Gizmo.

She is survived by her daughter, Dianne (Pruner) and her husband Bret Stadler, and her 5 grandkids, Chase, Garrett and Peyton Stadler all of Fairfield PA, Seth Stadler of Sioux Falls SD and Megan Stadler of Minneapolis MN. She is also survived by her sister Pat Mancinelli and her 3 nieces Susan, Karen and Jennifer.

Memorial services will be private. In Lieu of flowers the family suggest memorial contributions be made to the American Cancer Society PO Box 42040 Oklahoma, OK 73123 or cancer.org.


Events