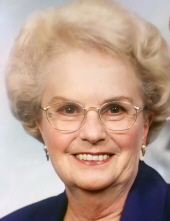 Obituary for Barbara Hankey Small
Barbara Belle (Hankey) Small, 86, beloved wife, mother, grandmother, sister and friend, passed away surrounded by her children and a brother on June 25, 2021 at Genesis Gettysburg Center where she resided for nearly three years.
Barbara was born on March 2, 1935 in Gettysburg, PA to parents, the late Glenn Lewis Hankey and Myrtle Glass Hankey. She was married to Harold J. Small, who was in her words, "the best husband any woman could ever have," for 58 years at the time of his death in 2011.
Barbara and Harold were the proud parents of four children: Robert "BJ" (Oneida) Small, Mechanicsburg; Cindy Small, Gettysburg; Nancy (Mark) Notarangelo, Harrisburg; and Joyce Small, Gettysburg. Barbara had two grandchildren who she adored: Abby (Patrick) Worthington, Harrisburg, and Brandi Joy Small, who became her heavenly angel in 2002. Barbara was loved by her extended family Keri, Cail, and Ashton MacLean Coco of Lake George, NY.
She leaves behind two brothers: Glenn Hankey, Jr.; and Dennis (Debra) Hankey, both of Gettysburg. She is predeceased by her brother, Terry Hankey.
She graduated from Gettysburg High School on May 31, 1953 and on June 6 of that same year, she and Harold were married in the historic, newly-renovated St. Francis Xavier Catholic Church on High Street, merely one block from where she grew up.
Following her full-time job of devoted mother to her children, Barbara worked as the office manager at Eddies Cleaners in Gettysburg and became a familiar, friendly face to all who dropped off items for dry-cleaning.
Her home was Barbara's favorite place because it was where her grandchildren had sleepovers and played games with Grandma and Pappy and her children gravitated to visit Mom and Dad. She loved reading novels (especially by James Patterson) and the comics pages, doing crossword puzzles and coloring art, gardening, Sunday drives to see the mountains and then to stop for ice cream, and eating all things chocolate.
She also enjoyed traveling, especially trips with her children and grandchildren to Myrtle Beach, SC and the thrills of East Coast amusement parks. In her later years she was an avid Pittsburgh Penguins ice hockey fan and loved to watch NFL football games. As a nursing home resident, she was the smiling lady who had to stop and hold the hands of residents she passed in the hallway and for hugs galore from the staff who kissed her forehead and dubbed her "Mama."
The sight of her children, granddaughter and their families caused her to smile and say, "My heart is so full it could burst" followed by "You'll always be in my heart." Just as she will always be in theirs.
A Mass of Christian Burial at St. Francis Xavier Church in Gettysburg will be held for Barbara at 11:00 AM on Wednesday, June 30, 2021. Family will receive friends at the Monahan Funeral Home in Gettysburg at Tuesday, June 29, 2021 from 6:00 PM until 8:00 PM. She will be laid to rest beside her beloved Harold in Evergreen Cemetery. Memorial contributions may be made to Penn State Children's Hospital, 600 University Drive, Hershey, PA 17033. Barbara's family wishes to express immeasurable gratitude to Drs. Dwight Michael, Dr. Uzoma Nwakuche, Genesis Gettysburg Center, and AseraCare Hospice for their compassionate, loving care.
Read More
Previous Events
Visitation
Monahan Funeral Home
125 Carlisle Street
Gettysburg, PA 17325
Service
St. Francis Xavier Catholic Church
25 West High Street
Gettyburg, PA 17325
Cemetery Details
Location
Evergreen Cemetery
799 Baltimore St.
Gettysburg, PA 17325