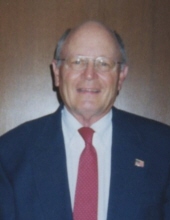 Obituary for Barry Wood Fair
Barry Wood Fair, proud veteran and dedicated servant to the Gettysburg community, dies at 79.
Mr. Fair was born on April 17, 1941 to Cleason and Mary Jane Fair of Gettysburg and graduated from Gettysburg High School in 1959 with his lifelong love and surviving wife, Dorothy (Herring) Fair. He served honorably in the U.S. Army at Fort Bragg, North Carolina from 1959-1962, and remained an active supporter of the military through the American Legion Post #202 in Gettysburg. As a Life Member, Mr. Fair served tirelessly for decades in the 40 & 8 Voiture, Chef.de.Gare, and Post Commander of the Vietnam War Post 59. He was especially fond of the numerous community service projects performed by Post #202, and many in the community will remember his generous home Christmas tree deliveries each year. He was also actively involved in the Gettysburg Elks Club for over fifty years.
Mr. Fair enjoyed deer and bear hunting trips with friends, bowling and card games at the Legion, and time grilling and relaxing on the back patio with wife Dorothy and family, enjoying the Battlefield views of Culp's Hill from their home on East Middle Street. Professionally, Mr. Fair partnered with the late Guy Bishop to own and operate the Battlefield Gulf station on Steinwehr Avenue, before working in operations at PNC Bank and volunteering at the Gettysburg Hospital. For many years, he could be found early each morning enjoying the breakfast crowd at Ernie's Texas Lunch. Health concerns led to relocation to Evergreen, Colorado in 2016.
Full military graveside service at the Evergreen Cemetery in Gettysburg is being planned for a later date. In lieu of flowers, please send donations in his honor to the American Legion Post #202 Building Fund at 528 East Middle Street or the Adams County S.P.C.A. at 11 Goldenville Road in Gettysburg.
Read More
Cemetery Details
Location
Evergreen Cemetery
799 Baltimore St.
Gettysburg, PA 17325