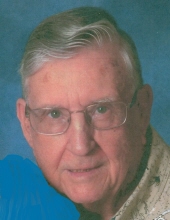 Obituary for Benjamin L. Dugger
Benjamin L. Dugger, 86, Meadow Lark Trail, Fairfield, PA died Saturday, April 9, 2016 at the Gettysburg Hospital.
He was born May 13, 1929 in Farmville, VA the son of the late Percy and Sallie Davis Dugger. Ben is survived by his wife of 53 years, Catherine McKenna Dugger.
Mr. Dugger is a 1947 graduate of Fluvanna High School in Virginia, he then graduated from Allied Institute of Technology in Chicago, IL as a Master Machinist. He was employed for 31 years at Bethlehem Steel's Sparrows Point, MD plant, retiring in 1984. He was a veteran of the US Army serving during the Korean Conflict. Ben was a lifelong passionate Democrat. He was also a lifelong conservationist belonging to Trout Unlimited, Isaac Walton Blue Bird Society, the Land Conservancy of Adams County, the Chesapeake Bay Foundation, NRDC National Resources Defense Council, Save Our Streams, the Maryland Park Service Volunteers and the Fluvanna Historical Society. He received many conservation awards and Certificates of Appreciation. He enjoyed tending to his Blue Bird Trail, fishing, canoeing, travel, conservation work and being with his nieces and nephews.
In addition to his wife, Benjamin is survived by a brother, John Richardson of Springfield, MO, a sister-in-law, Dean Dugger and numerous nieces and nephews.
A memorial service will be held at a later date. In lieu of flowers memorials can be made to the Adams County Chapter of Trout Unlimited, Chapter #323, adamscountytu.org or the Fairfield Fire Company and EMS, 106 Steelman Street, Fairfield, PA 17325. Online obituary and condolences available at monahanfuneralhome.com.


Memorial Contribution
Fairfield Fire Company and EMS
106 Steelman Street
Fairfield , PA 17320