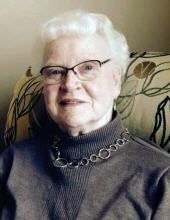 Obituary for Betty D. Wetmore
Betty Dellett Wetmore, 92, passed away peacefully at SpiriTrust Lutheran, The Village at Utz Terrace in Hanover, PA on March 8, 2022 with her family by her side. Betty was recently a long-time resident of Gettysburg, PA.
Betty was born Elizabeth Ross Dellett in Chevy Chase, MD on May 7, 1929 to William Ross and Bessie Haney Dellett. She had one brother, Robert Dellett (deceased). Betty grew up on Norwood Drive in Chevy Chase where she lived across the street from her first cousins, Doug and Ross Parkhurst. Her memories of the Norwood Drive "gang" were some of her fondest.
Betty attended Bethesda Chevy Chase High School, where she was a member of the State Champion girls' basketball team. She loved playing many other sports, and excelled at most, including tennis, archery and bowling. She also played for a semi-pro girls' baseball farm team.
Betty attended the University of Maryland, where she met her beloved husband, George Badger Wetmore (deceased). They married in 1951 and shared a full, loving life together, traveling and spending time with family and friends.
Graduating with a degree in early childhood education, Betty was a schoolteacher for most of her life, teaching young children in public school, as well as several nursery and church schools. She loved her work and was a "mother" to most of her students who treasured her into their adult lives. She also served as Director of Christian Education at Grace United Methodist Church in Wyckoff, NJ.
Betty and her family lived in Silver Spring, MD and Mahwah, NJ before retiring in Gettysburg, PA in 1987. Betty is survived by her children, Bill, Jenny, Betsy and Georgie; her niece and honorary daughter, Leah; her grandchildren, Amelia, Kyle, Erin, Trevor, William, Ross, and Robert; and her great-grandchildren, Reagan, Paige, Genevieve, Henry and Sebastian. Family was the most important thing in Betty's life. She was a kind and loving caregiver to each and every member of her family, as well as many in her extended family.
Betty lovingly donated many hours of service to many organizations, including the PTA, Cub Scouts, Meals on Wheels, the Lake Heritage Homeowners Association, and Friends of the Adams County Library. Betty was an avid reader and the library was very important to her.
Betty spent the first 50 years of her life as a faithful and active member of Chevy Chase United Methodist Church, where she and George were among the founding members of the Friendship Class. Chevy Chase UMC was always in her heart, and it is there that she will be interred beside her beloved husband.
A memorial service will be held, Saturday, June 11th 2022 at 2PM at Chevy Chase United Methodist Church, 7001 Connecticut Ave, Chevy Chase, MD 20815.

A memorial service will be held at a later date. In lieu of flowers, the family requests that donations be made to Friends of the Adams County Library.
Online tributes and condolences may be made at monahanfuneralhome.com.
Read More
Previous Events
Service
Chevy Chase United Methodist Church
7001 Connecticut Ave.
Chevy Chase, MD 20815