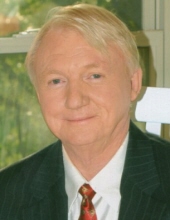 Obituary for "BC"
Billy Carroll Leonard, "B.C." passed away peacefully on Friday, September 24th. B.C. was born on November 20, 1933 in Durham, North Carolina. After graduation from Asheboro High School, he joined the United States Air Force in September of 1952. Billy was selected to attend Flight School and served as a USAF Captain flying F84's and F-86's. His enthusiastic attitude was "all in" always volunteering for any assignment, he was a loyal and ambitious pilot.

B.C. was hired with Capital Airlines, which merged with United Airlines. His commercial career began on a DC-3 and spanned 35 years with his retirement in November of 1993 as a Captain on the Boeing 747. He flew in all 50 states, Europe, Asia and Australia. Billy truly felt he had the best job in the world. Flying Boeing airplanes, meeting all sorts of people, and visiting foreign locations was a great gift.

Billy purchased the Black Horse Tavern and farm moving to Adams County 50 years ago in September of 1971. He was Honored with the Adams County Young Farmer of the Year award and proudly preserved important watershed acreage on his farm with the Land Conservancy of Adams County.

Billy is survived by his wife, Galina Leonard and her sons, Max and Teddy Kalinkin. Son, Lee Leonard (Lisa) and daughter, Cindy Leonard Keeney (George). He was the proud grandfather of 6 grandchildren; Pierce, Patric and Bailey Leonard; and Dan, Paige and Mikey Keeney. He was predeceased by a brother, Lewis Leonard.

There is nothing B.C. valued more than his family, he claimed he was "the luckiest man in the world". His life lessons, clever jokes and countless memories at the farm will live on through his family.

The family will receive friends on Friday from 11:00 am to 2:00 pm in the garden at Mansion House 1757 in Fairfield. A private military burial will follow. In lieu of flowers, donations can be sent to the PA Wounded Warriors fund based in Camp Hill, PA or the American Cancer Society.
Read More
Previous Events
Visitation
Mansion House 1757
15 West Main Street
Faifield, PA 17320