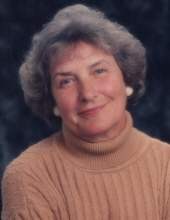 Obituary for Bobbie E. Phillips
Bobbie E. Phillips, age 87, of Gettysburg, died on Thursday, August 13, 2020. Bobbie was born in Escambia County, Florida, on September 14, 1932, the daughter of the late Albert W. Hanks and Ella Mae (Williams) Hanks. Bobbie was married to John W. "Jack" Phillips for 58 years prior to his death on August 18, 2018.
Bobbie is survived by her son, John, and his wife Kimberly, of Gettysburg, PA; her daughter, Norma Jean and husband Doug, of Abbottstown, PA; and two grandchildren, Brennan C. Phillips of Coventry, RI, and Rose Elizabeth Reed of York, PA. Bobbie is also survived by her sister Nancy Harrald of Brighton, TN, and her brother, Albert W. "Butch" Hanks Jr. and his wife Janice of Tuscaloosa, AL. She was predeceased by sisters Betty Sasser and Robia Hanks Grim.
Bobbie grew up in Florida, Ohio and Alabama, and was a legal secretary in Pensacola, Florida, where she met Jack, then in Navy Flight Training. Following their wedding in 1960, they lived in several Pennsylvania towns prior to moving to Gettysburg in 1970. In addition to her professional work in Jack's law office as legal secretary and bookkeeper, for over 20 years Bobbie was the bookkeeper for what is now the Adams County Community Foundation. She also invested her time in community work, including Meals on Wheels, the Adams County Library System, and Green Acres.
A great achievement of hers was becoming one of the earliest female Licensed Battlefield Guides, and she was quite proud to have been a student of the late Colonel Jacob Sheads. She was an ardent supporter of Historic Gettysburg Adams County and the Civil War Round Table. In 2016 Jack and Bobbie were recognized by Historic Gettysburg Adams County for their work in preserving the historic Professor Michael Jacobs House.
Burial will be private at the convenience of the family. Contributions in memory of Bobbie will be gratefully accepted by the Jack and Bobbie Phillips Family Fund, Adams County Community Foundation, 25 South Fourth Street, Gettysburg, PA 17325, which supports the Community Foundation's grant making to charitable organizations across Adams County, the adopted home she loved so much.
Read More