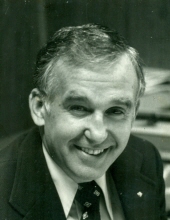 Obituary for C. William Settle
C. William "Slug" Settle, son of the late Clifford and Maude Settle died Friday, October 14, 2016 at the Hanover Hospital at the age of 92. He was a resident of Homewood at Plum Creek in Hanover, PA.
During his 32 years of service to the Upper Adams School District, he served as teacher, coach, Building Principal, football Public Address Announcer for 20 years, Elementary Supervisor, Curriculum Coordinator grades 1 – 8, Title 1 Program Director, Teachers' In-Service Coordinator, Supervisor of Curriculum/Instruction K- 2 and Assistant to the Superintendent.
One of his still on-going programs, which he initiated in 1956, with the help of students and cooperating staff, is the ever popular annual Color Day.
He was a graduate of Biglerville High School in 1942; West Chester State College in 1950; and earned a Masters Degree in School Administration from Penn State University in 1954. Additional post Masters work was done at Shippensburg University and Penn State University.
In 1942, he enlisted in the Army Air Corps and served overseas for two and a half years in the CBI, European, Africa/Middle East Theaters of war, as an aircraft engine mechanic.
After graduating from college in 1950, he was commissioned in the Army and served 4 years with Gettysburg104th Armored Cavalry Company, PA National Guard as the Artillery Survey officer and Training Officer. In 1955 he transferred to Active Reserve status with 2090th USAR School, 79th ARCOM, Harrisburg, PA for training purposes.
While assigned there, he completed the Army's Basic and Advanced Military Intelligence Courses and also the Army's Command and General Staff Officer's Course. Upon completion of these courses, he was then assigned as a Staff member and served the 2090th USAR School in various staff positions over the years, terminating in 1976 as Director of Command and General Staff Officer's Training for the Harrisburg School and five other Central Pennsylvania Satellite USAR Schools.
Col. Settle also served as a Mobilization Designation instructor, Order of Battle Department, U.S. Army Intelligence School, Fort Holabird, MD for many summers.
He was past commander of the Ira E. Lady Post 262, American Legion, Biglerville, PA. He held membership in the VFW, Life member of the Military Officers Association and Reserve Officers Association.
His Masonic affiliations included membership in Good Samaritan Lodge #336 of Gettysburg, Scottish Rite, Valley of Harrisburg; Harrisburg Chapter #76 National Sojourners; and Heroes of '76, and Zembo Shrine of Harrisburg.
Other organizational affiliations include Life membership of Penn State and West Chester alumni Clubs, Gettysburg Elks Lodge 1045; National Education Association and Kirby Stewart Post 24, American Legion Bradenton, FL.
He had served as choir member, elder and member of the Session at Gettysburg Presbyterian Church. He had been, previously, a member of St. Paul's Lutheran Church in Biglerville, PA, where he served several terms as General Superintendent of Sunday School and as a member of the church choir and council. He also served as Explorer Scout Leader as his son was progressing through, to his Eagle Scout rank.
He and his wife had done many years of volunteer work as Coordinators for Elder hostel program at Gettysburg; Tour guides at the National Apple Museum in Biglerville; Meals on Wheels program in Upper Adams; and as chaperones for the PA Ambassadors of Music European Tours, for several years.
Beyond service to his community and country, C. William Settle was a loving husband, father and grandfather. He is survived by his wife of 64 years, Ann Guise Settle, and by a son Retired Col. Tracy Settle and his wife Sheri of Bradenton, FL, a daughter, Stacy Hunt and her husband Harold of Tampa, FL. He is also survived by grandchildren, Justin and Kayla Hunt of Florida and Margaret "Meg" Settle of Washington, DC and great grandchildren, Sean and Haley Hunt of Tampa, FL. He was predeceased by a brothers Stanley and Ruhl Settle

A Celebration of Life will be held Sunday, April 30th, from 1-4PM at the Biglerville High School Auditorium. The family will receive friends at the BHS auditorium between 1-2 and 3-4, with a formal program from 2-3 including full military funeral honors. In lieu of flowers, memorials can be made to the C. William and Ann G. Settle Fund, a part of the Upper Adams Canner Fund, with checks payable and mailed to the ACCF, PO Box 4565, Gettysburg, PA 17325.


Previous Events
Service
Biglerville High School Auditorium
161 North Main St
Biglerville, PA 17372
Family will receive friends from 1:00 PM until 2:00 PM and 3:00 PM until 4:00 PM on Sunday, April 30th