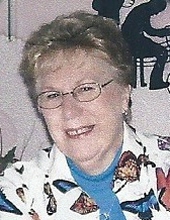 Obituary for Carolyn Margaret Bemies
On Sunday, November 6, 2016, Carolyn Margaret Bemies, aged 84, of 20 Crossland Trail, Carroll Valley, PA peacefully passed away at Hospice and Community Care in Mt. Joy, PA. Carolyn was born on April 6, 1932 to the late Carl L. and Margaret Neail Bemies in Washington, DC. She is survived by her sister, Ruth Marie Coffelt of Fairfield. She will be greatly missed by her beloved cat Socks, his brother Pyewacket and her best friend, companion and caregiver, Sally Wolfe.

In her lifetime, Carolyn was employed as a budget officer with the federal government, retiring in 1983. She then worked in the private sector as an administrative assistant at various churches in the Silver Spring, MD area. Carolyn also was a Chapter-at-Large member of Sweet Adelines, International and an Associate Member of The Barbershop Harmony Society. She directed several hand bell choirs in various churches in Silver Spring, Maryland. Carolyn was also a harpist and was a member of the American Harp Society and the American String Teachers Association. She relocated to Carroll Valley, Pennsylvania in 1993 and promptly became a volunteer with Habitat for Humanity. She also sang tenor with the Gettysburg Civic Chorus. Carolyn was active in a number of barbershop quartets both ladies and mixed, as well as a member of the piano duo Double Treble and performed at various retirement communities throughout Adams and York counties.

At Carolyn's request. There will be no viewing, visitation or service. It was her desire that she be remembered at a better time in her life. In lieu of flowers, please consider a donation to the Adams County SPCA, or your favorite charity. Rest peacefully dear friend, and may God hold you in the palm of His hand.
Read More