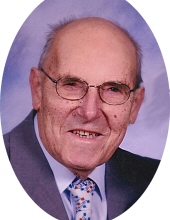 Obituary for Charles "Charlie" Marass
Charles "Charlie" J. Marass

October 23rd, 2016 marked the passing of Charles J. Marass to his eternal life with our Lord. At the time of his peaceful passing, at the age of 91, he was surrounded by members of his loving family.

Charles, known among his many friends and family members as "Charlie", was born on April 2nd, 1925 in Passaic, New Jersey, only child of John and Helen (Ester) Marass. He joined the U.S. Naval Service on March 31st, 1943 and was Honorably discharged after 3 years of service, rising to the rank of radioman second class. During the latter part of his military service, Charlie served in the Pacific Theater aboard the USN PCS 1442 wooden-hulled patrol craft / mine sweeper.

Charlie married Eloise O. Blake on October 25, 1947; they began their lives by building their first home by hand in Toms River, N.J., then later resettled to northern N.J. where they remained for the next 20 years. Upon receiving his college degree in accounting from Fairleigh Dickenson University, Charlie joined the United States Secret Service on April 4th, 1955. During his 30 year career with the Service, Charlie served on the White House Protective Detail; was assigned to the protective details of Presidents Eisenhower, Kennedy, and Johnson; and provided protective services to many dignitaries and visiting heads of state. In 1961, in response to 4 U.S. airline hijackings in three months, President Kennedy directed the creation of a Sky Marshal program, manned by field agents drawn from various Federal agencies. Charlie was among those selected by the Secret Service to serve in such a capacity. When not so engaged, Charlie investigated countless counterfeiting and forgery cases, resulting in multiple arrests and convictions. Charlie's final posting with the Secret Service was as the Special Agent-in-Charge (SAIC) of the Gettysburg, PA Field Office.

Charlie and Eloise became residents of Gettysburg in 1969. In the years since, they both became very well known and beloved members of the community. Charlie selflessly gave of himself through near continuous volunteer efforts, most notably in support of the Gettysburg community's Men's Interfaith program and in his weekly efforts to transport excess bakery goods from local grocery stores to the Adams Rescue Mission and the Gettysburg Senior Center. Additionally, as members of the Prince of Peace Episcopal Church, Charlie and Eloise contributed countless hours of their time in support of the Church's varied activities. Charlie was an active member of the Masonic Order throughout his adult life.

Cherishing his memory are his daughter Karen and husband Charley, of Gouverneur, N.Y.; his son, Keith and wife Jan, of Burke, VA; his son Kevin, of Huntingdon Valley, PA; and his daughter, Kristy and husband Dennis, of Camp Hill, PA. Charlie will also continue to live on through his 8 grandchildren: Chris, Charles, and Jennifer, Jason and Jamie, Lynn, Jesse, and Steven; and through his 7 great-grandchildren: Vera, Bostic, Eloise, Carter, Collin, Paul and Lucas.

A memorial service celebrating his life is scheduled for Saturday, November 12th, 11:00 AM, at Prince of Peace Episcopal Church, 20 West High Street, Gettysburg, PA, 17325. Charlie will be interned with military honors at Fort Indiantown Gap National Cemetery on Monday, November 14th. In lieu of flowers, Charlie would have preferred memorial contributions in his honor to Hospice of Central PA; the Adams Rescue Mission; the Prince of Peace Episcopal Church; or your favorite charity.


Previous Events
Service
Prince of Peace Episcopal Church
20 West High Street
Gettysburg, PA 17325
Graveside
Fort Indiantown Gap Military Cemetery
Indiantown Gap Rd.
Annville, PA 17003
Cemetery Details
Location
Fort Indiantown Gap Military Cemetery
Indiantown Gap Rd.
Annville, PA 17003