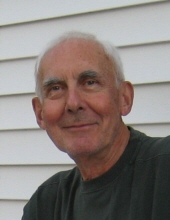 Obituary for Charles J. Jezek, Jr.
Charles J. Jezek, Jr., 86, of Gettysburg, PA died Sunday morning, May 6, 2018 at the Gardens Nursing Home, Gettysburg, PA.
Born January 7, 1932 in Bessemer, MI he was the son of the late Charles and Veronica E. (Martinkewz) Jezek, Sr. He was the husband of the late Mary Ellen (Bennett) Jezek who died November 11, 2009.
Mr. Jezek was a Veteran of the United States Army serving during the Korean War. He was a graduate of Michigan State University and retired as a federal employee of the US government working for the Social Security Administration for a number of years.
Charles is survived by his four children, Gregory Jezek and his wife Deborah, and their children, Renee and Nicole, of Middle River, MD, Daniel Jezek and his wife Deanna, and their children, Thomas and Nicole, of North Potomac, MD, Jeffrey Jezek and his wife Amy, and their son, Evan, of Frederick, MD, Karen Hendrie and her husband Stephen, and their children, Alyx and Sidney, of Gettysburg, PA. He was preceded in death by his brother Raymond E. Jezek.
Services for Mr. Jezek, being handled by the Monahan Funeral Home, Gettysburg, PA, will be private and at the convenience of the family. Online condolences may be made at monahanfuneralhome.com.
Read More