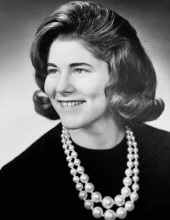 Obituary for Charlotte "Charlie" Ondrizek
Charlotte "Charlie" Ondrizek, 75, of Gettysburg, PA died Tuesday evening, October 8, 2019 at the York Hospital.
Born January 1, 1944 in Harrisburg, PA, she was the daughter of the late June H. and Edna M. (Risser) Daniels. She was the wife of Lynn E. Ondrizek, of Gettysburg who she married in 1965 in Highspire, PA.
Charlie attended Pennsylvania State University studying Mechanical Engineering. In college, she enjoyed being part of the rifle team as an expert marksman and during her sophomore year and met the love of her life. Together they enjoyed reading books and watching college and professional football and baseball, which they enjoyed until God called her home.
She was a member of St. James Lutheran Church, Gettysburg, PA, where she and her husband were members for over 40 years. She worked as a mechanical engineering technician at several places including Scovill-Schrader in Harrisburg, Northrup Aviation in North Carolina, Champion Pavers in Chambersburg, as well as for the North Carolina Highway Commission. She also worked previously as the social worker for the Adams County Homeless Shelter and worked as part of the support staff at the FCC in Gettysburg, PA.
Among the many features that made up Charlie's blessed life was her love for being a wife, a working mother, and grandmother as well as watching her children grow-up and thrive. She was an active adult participant in Boy Scouts while her boys went through the scouting program and a cheerleader for any activity her kids/grandkids participated in, including swimming and diving, softball, bowling, and equestrian eventing. On vacation she enjoyed going to the ocean and visiting various historic sites.
She enjoyed watching Penn State football and the Pittsburgh Pirates. She also became an avid fan of NCIS and playing Bingo. She spent her most recent days keeping up with her family through live video sessions and social media.
In addition to her husband, Charlie is survived by her three children, Jay Ondrizek of Gettysburg, PA, Chris Ondrizek and Terri Stype of Parkesburg, PA, her daughter-in-law Corrie Ondrizek of Gettysburg, PA, and son-in-law Kurt Stype of Parkesburg, PA. She was also survived by her three grandchildren, Emily Ondrizek of Chambersburg, PA, Derek Ondrizek of Gettysburg, PA, and Mackenzie Stype of Parkesburg, PA, her sister, Claudia "Bambi" Brown of Washington state; and her niece, Marliese Bartz of San Diego, CA.
Funeral services being arranged by the Monahan Funeral Home will be private and at the convenience of the family. Online condolences may be made at monahanfuneralhome.com.
The family suggests memorial contributions be made to SCCAP, 151 N. Stratton St. Rear, Gettysburg, PA 17325 or to the American Heart Association, 1019 Mumma Rd., Wormleysburg, PA 17043.
Read More