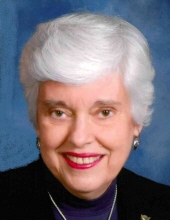 Obituary for Charlotte S. Winsheimer
Charlotte was born on Leap Year Day, February 29, 1940, in Flushing, Queens County, New York, NY. Her parents were Joseph and Helen Stoney.
Charlotte is survived by her husband of 62 years, the Rev. Dr. Harry G. Winsheimer; son, Paul Winsheimer, his wife, Kelly, their children Kevin Winsheimer (wife, Sarah, and son, Rowan), Adam Winsheimer (wife, Tori), Zack Hover, and Tayler Hover; daughter, Janet McGowan, her husband, Will, and their daughter Amy; and Charlotte's sister, Carolyn Stoney Johnson, her children, and grandchildren.
Being firmly committed to God, family, church and community, Charlotte gave of herself so generously that Harry called her a professional volunteer. With a lifetime of being very active in Presbyterian churches and community organizations, Charlotte served as an elder and sang in church and community choirs for 70 years. She was an officer of the Presbyterian Women at the local, presbytery, synod, and denominational levels. She was also a Stephen Ministry leader for 22 years. Outside the church, Charlotte was an active member of PEO for 29 years and a former chapter president, and in the Girl Scouts for more than 20 years as a scout then leader.
A graduate of the University of Pittsburgh, she worked at various times as a substitute teacher, dental assistant, and debt counselor.
At the time of her death, Charlotte lived at Cross Keys Village, The Brethren Home in New Oxford, PA. Previous residences were in Gettysburg, PA (Deatrick Village); Bethesda, MD; Orchard Park, NY; Pittsburgh, PA; McDonald, PA; Elders Ridge, PA; and Flushing, NY.
Charlotte was an inspiration to others and was admired for many reasons, not the least of which was her courage and upbeat attitude during the years she suffered from cancer and a stroke. The numerous prayers and plentiful support during those years have been much appreciated. Thank You!
The family welcomes you to join us in honoring Charlotte at a memorial service at Gettysburg Presbyterian Church (208 Baltimore St., Gettysburg, PA) on Saturday, March 26. The service will start at 11:00 a.m., with the receiving line beginning at 10:00 a.m. For the receiving line, with the resurgence of COVID-19, masks and the use of hand sanitizer will be required, and physical contact will be limited.
In lieu of flowers, donations may be made in Charlotte's name to the American Cancer Society (www.cancer.org) or Gettysburg Presbyterian Church (visit www.GettysburgPresbyterian.org and select the Giving link on the right side of the home page). Online tributes and condolences can be made at monahanfuneralhome.com.
Read More
Previous Events
Visitation
Gettysburg Presbyterian Church
208 Baltimore Street
Gettysburg, PA 17325
Service
Gettysburg Presbyterian Church
208 Baltimore Street
Gettysburg, PA 17325