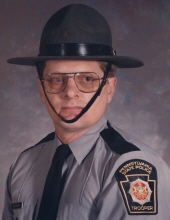 Obituary for Clifford O. "Cliff" Whitmoyer
Clifford O. "Cliff" Whitmoyer, 76 of Aspers, PA died Friday, December 11, 2020 at The Gettysburg Hospital.
Born in Danville, PA on November 23, 1944, he was the son of the late Clifford E. & Helen M. (Stover) Whitmoyer. Cliff is survived by his wife, Barbara Ann (Hayes) Whitmoyer.
He served with the United States Air Force from 1962-1966 during the Vietnam War. Following his military service, Cliff proudly served as a member of the Pennsylvania State Police from 1968-1995, there his Trooper buddies affectionately referred to him as "Whitey" retiring from the Gettysburg Barracks. After his retirement with the State Police, Cliff worked at the Adams County Courthouse for many years serving in various roles with the security, tip staff and the sheriff's department. He was a member of Benders Lutheran Church in Biglerville, PA and the Fraternal Order of Police Lodge #41. Cliff enjoyed volunteering as a Little League baseball coach for many years with the Upper Adams Little League. He was the proud grandfather of seven grandchildren and enjoyed watching them grow and being a big part of their lives. He also enjoyed tending to his vegetable garden.
In addition to his wife Barbara, he is survived by three sons, Shawn David Whitmoyer and wife Mayra of Biglerville, Curtis A. Whitmoyer and wife Jill of Gettysburg, PA and Cory L. Whitmoyer of Grand Rapids, ND, and seven grandchildren, Landon, Jacoby, Jeter, Kyle, Reid, Devin and Chelsea.
A graveside funeral service and interment will be held at 11:00 AM on Saturday, December 19, 2020 at the Biglerville Cemetery with his pastor, Rev. Timothy Seitz-Brown, officiating. Pennsylvania State Police and Military Honors will be by provided the State Police Ceremonial Unit and the Adams County Allied Veterans. The Monahan Funeral Home in Gettysburg is assisting the family with the arrangements, online tributes and condolences can be made at monahanfuneralhome.com.
The family suggests memorial contributions be made to Benders Lutheran Church, 1385 Rentzel Rd., Biglerville, PA 17307.
Read More
Previous Events
Graveside
Biglerville Cemetery
101 Cemetery Rd.
Biglerville , PA 17307