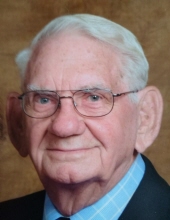 Obituary for Clyde S. DeHoff, Jr.
Clyde S. DeHoff, Jr. passed peacefully into the Eternal Church surrounded by his family on Monday, January 25, 2021. He was the dear husband of Alicia (Simpson) DeHoff, his wife of 40 years.

Born in New Windsor, MD May 29, 1930, the son of Clyde S., Sr. and Mae DeHoff, Clyde grew up in Catonsville, MD. He served in the U. S. Navy during the Korean War as a Radioman, spending most of his duty in the Mediterranean. After Clyde's discharge he became a CPA while working at Westinghouse in Baltimore, eventually taking a position at Navy Audit (became DCAA) and retired as an Area Manager for offices in MD, VA, and DC, worked for Price Waterhouse for 7 years and then represented the Taiwan government in overseeing cost reimbursements for an aircraft project for another 3 years. He was an expert in government accounting.

Throughout his adult life Clyde enjoyed serving his community and church. After moving to Gettysburg, he volunteered at the Eisenhower Farm planting and tending the vegetable garden, loved transporting seniors to doctor's appointments, etc., getting groceries for them and even cleaning their houses and mowing and trimming their lawns. He went on mission trips to help after Katrina in Mississippi and building churches in the bateys of the Dominican Republic. He served on various committees and in various offices in church. To the moment of his passing he demonstrated his love for the Lord Jesus and devotion to the church. He was a lifelong fan of the Baltimore Orioles, rooted for the Ravens, loved gardening and making pickles from the cucumbers he grew, waited almost breathlessly for tomatoes to come into season. He loved watching his children and grandchildren play baseball. Travel was a favorite pastime and he and Alicia traveled to many foreign countries and every state in the U.S. When not traveling he was studying the stock market and investing.

Clyde is survived, in addition to his wife, by his daughter, Gail Beam of MD, sons Thomas of FL and Edward of MD, stepdaughter Lisa Simpson of Seattle, WA, stepsons Scott Simpson of NC and Shawn Simpson of CA, 12 wonderful grandchildren and a brother, Eugene DeHoff of MD. He was predeceased by his first wife, Marge, stillborn daughter Gail Louise, his brother Harold and sister Ruth.

A celebration of life will be held at 11:00 AM on Monday, June 28, 2021 at the Lower Marsh Creek Presbyterian Church. The Monahan Funeral Home is in charge of the funeral arrangements and online condolences may be made at monahanfuneralhome.com.

Memorial contributions may be made to Lower Marsh Creek Presbyterian Church, 1865 Knoxlyn Rd., Gettysburg, PA 17325.
Read More
Previous Events
Service
Lower Marsh Creek Presbyterian Church
1865 Knoxlyn Rd.
Gettysburg, PA 17325