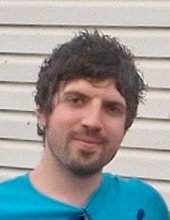 Obituary for Curtis S. Meeson
"People come and go so quickly here."

When Dorothy spoke these words, she was referencing Oz, but she could have just as easily been speaking of Earth.
Curtis Schuyler Meeson passed away on October 10, 2019, at the age of 33. He was born on March 14, 1986, in Gettysburg, PA, to Craig S. Meeson and Nancy R. Newman. Curt graduated from Gettysburg High School and then went on to earn a Bachelor of Arts degree from the Art Institute of Pittsburgh, specializing in web design.
Known affectionately as "Pip" by his sister and her friends, Curt was often the life of the party; when he arrived at the festivities, folks were known to celebrate with a joyful "Pip Pip Hooray!" He was appreciated for his quick wit and the telling of overly long (often terrible) jokes... but they made him laugh, and that, in turn, brought smiles to the faces of others. Curt was a conversationalist, for sure. He could often be found at the bar, striking up dialogues with complete strangers by pulling out his sketchbook and instructing, "Hey, draw me a line." Generally, Curt carried with him a very large, very orange bag that made one wonder if he might be permanently moving into the place. In reality, he just liked to have his art supplies close at hand: sketchbooks, Sharpies, colored pencils, markers... With those lines drawn by strangers, he would create laughable, colorful creatures known as "bar monsters." You may have helped him to create one of those bar monsters once upon a time. If you did, cherish that experience.
Curt is survived by his parents, Nancy and Craig, his sister Hannah, and many,
many loving friends and family members—of both the two-legged and four-legged variety.
Friends may call to pay their respects to the family on Wednesday, October 16, at the Monahan Funeral Home in Gettysburg, PA from 6:00-8:00PM. Interment will be private.
The family asks that in lieu of flowers, donations be made to one of the following organizations: Mercy House Renovation Project, C/O Chief Clerk Paula Neiman, 117 Baltimore Street, Gettysburg, PA 17325 or the Adams County SPCA , 11 Goldenville Road , Gettysburg, PA 17325. Online tributes and condolences can be made at monahanfuneralhome.com.
Read More
Previous Events
Visitation
Monahan Funeral Home
125 Carlisle Street
Gettysburg, PA 17325