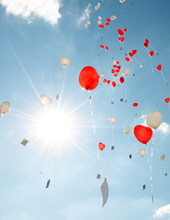 Obituary for Dante John Barnabei
Dante John Barnabei was born on April 3, 2020. He passed away peacefully in his parents arms at Children's Hospital of Philadelphia on May 3, 2020 after battling complications caused by congenital diaphragmatic hernia (CDH).

Dante is survived by his loving parents, Christopher and Tara; sister, Aveline; grandparents, Domenic & Janet Barnabei and John & Barbara Hoellerman; great grandmother, Helen Hoellerman; uncles, Domenic, Eric, Todd and Cody as well as his treasured aunts and cousins.

Dante's name means enduring, and, although he was with us for a short time, his impact is everlasting. Dante has given us the gift of strength and compassion. Through him we have learned that the world is full of generous and selfless people.

A private ceremony is planned with immediate family. An event to celebrate Dante's life with extended family and friends will occur when it is once again safe to hold large gatherings.

In lieu of flowers, please send donations to Hosts for Hospitals (hostsforhospitals.org) or the Center for Fetal Diagnosis and Treatment at Children's Hospital of Philadelphia (give2CHOP.edu).