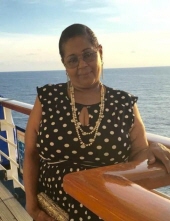 Obituary for Debbie Young
Debbie Young transitioned from this life on Saturday, October 08, 2022, in exactly the same way she lived, on her own terms.
Born, very appropriately, on July 04, 1958 in Adel, Georgia, Debra Ann, grew up in a loving home with doting parents, the Deacon Joe Lewis and the late Elizabeth "Bette" Tuff (nee Gamble). Her childhood love of music and dancing, is fondly remembered by her siblings, in addition to a love and mastery of cooking. She was known to be a fierce protector of those she loved. There are tales of a young Debra Ann approaching her sister's bullies to "even out any wrinkles," a quality and way of life that she would carry right into motherhood, auntie-hood, and grand-motherhood. Like most all her siblings, "Debran", as she was affectionately called, worked at Eddie's Cleaners, while she completed her schooling at Gettysburg Area Schools.
Queen of the one-liner, Debran's ability to creatively and freely offer her opinion about anything was a source of laughter to all who had the privilege of knowing her on down through the years. But, even more than this, Debran had a knack for sharing an anecdote, a teaching story, or a turn of phrase about any situation and it would be, at once, relevant and memorable.
The earliest of early birds, Debran excelled at positions that allowed her to get the real work done, before the rest of the world woke-up, throughout her life she enjoyed leadership roles at CH Bittinger Co. in Hanover, Knouse Foods in Biglerville , as a Store Manager for Sheetz of Littlestown, as Breakfast Lead at the Hilton Garden Inn, on through her last position, before retirement, as a Quality Inspector and Librarian at Quad Graphics of Fairfield.
But, as hard as she worked, Debran knew how to play hard, too. She was known to pack her bags and fly off to far-flung locales like Jamaica, Panama, and other points in the Caribbean. However, inasmuch as she enjoyed vacation, for many of us, it was the car rides, the family dinners, the card games, the shopping trips, the early morning, late night, and mid-afternoon phone calls where she really shined. Young people of the family have undoubtedly been regaled with stories of Debran always having the latest records, going out dancing with her sisters, and was one of the first, and only, person that many of us knew to have a waterbed. As we move through our grief for the rest of our lives, we will hear a song and immediately light up and, undoubtedly, spend a short time smiling, thinking with joy of the time we shared with our adored daughter, mother, sister, aunt, and friend.
Debra Ann is survived by two sons Christopher and his fiancé, Jessica , of Hanover, PA, Lionel, of Mechanicsburg, PA; grandchildren Emoney of Arlington, VA, Kamane and his wife, Angeles, of Richmond, VA, Chrishari of Georgia, Alexis, Santana, and Isaiah of Gettysburg, PA, Khanime of Mechanicsburg, PA and Brooklyn of Hanover, PA; two great-grandchildren, Amiyah and Anthony, both of Arlington, VA; her father, Joe Lewis Tuff and his wife, Betty, of the home, and their daughters Candice Tucker and her wife Jessica of Gettysburg, PA and Tabitha Tucker of Harrisburg, PA; two brothers, Kenneth Brantley and his wife, Sherry, of North Port, FL and Willie Joe Tuff of Gettysburg, PA; six sisters, Bernadine Mathis and Jacqueline Tuff of Gettysburg, PA, Tina Solomon and her husband, Jesse, of Haines City, FL, Jennifer Baker and her husband, Dairl, of Fayetteville, NC, Joann Moore and husband, Shawn, of Woodbridge, VA, and Sara Brown and her husband, Marvin, of Burke, VA, and a whole host of nieces and nephews.
She is preceded in death by her mother, Elizabeth Tuff, and sister, Janice Armstrong.
There is so much that we will miss about Debran, chief among them, her ability to turn the smallest of things into the largest of things; there was never a dull moment without her superlative and dynamic storytelling, and there was scarcely a room or occasion without side-splitting laughter or provocative conversation when she was in the midst. Her frank, no-nonsense approach to life and ability to give the best, most direct advice, along with memories of her genuine personality and easy laugh will surely keep us warm even as the world is just a bit colder without her.
Debran made sure that we understood she was not, in the least bit, interested in traditional funeral and burials services, as such the family held an intimate celebration of her life, this past Sunday, October 16, 2022. We welcome and are receiving cards, tokens, well wishes, condolences, and any fond memories of our beloved you would like to share, please contact Jessica Kneller, jessknella@gmail.com.
Read More