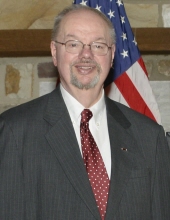 Obituary for Dennis T. Guise
Dennis Guise, 69, Lower Paxton Township, died peacefully at home on October 24, 2016 of complications from an atypical Parkinson's disorder.
Mr. Guise was born January 10, 1947 in Hagerstown, MD the son of the late John and Janet Fissel Guise. He is survived by his wife, Betty Hostetter Guise, two sons; Andrew Guise of Harrisburg, PA, Brendan Guise of Harrisburg, PA, and a brother, John Guise, Jr, of Mountain Top, PA, a niece, Stephanie Wychock of Wapwallopen, PA, a nephew, J. Bradford Guise of Mechanicsburg, PA and several great nieces and nephews. He was predeceased by a brother, George Guise.
Dennis Guise grew up in Gettysburg, PA and graduated from Gettysburg High School in 1965. While attending Gettysburg College, he served as a seasonal park ranger at the Gettysburg National Military Park. He graduated magna cum laude from Gettysburg College in 1969. He was class salutatorian and was elected to Phi Beta Kappa. Guise was designated a distinguished graduate of the Air Force Reserve Officer Training (ROTC) program. After graduation, he continued his professional education at the University of Pennsylvania Law School, from which he earned a juris doctor degree in 1972. While awaiting his first assignment in the U.S. Air Force, Guise served as a Law Clerk for Judge John McPhail in the Adams County Court.
Guise served as an Air Force Judge Advocate in both active and reserve components for 30 years before his military retirement in 2003. He attained the rank of Colonel and was promoted to Brigadier General on the retired list of the Pennsylvania National Guard. Military awards and decorations include the Legion of Merit, the Meritorious Service Medal, and the Pennsylvania Distinguished Service Medal.
Guise's civilian legal career concentrated on state government. Beginning in 1978, he served concurrently as chief counsel for the Pennsylvania Fish Commission and the Department of Military Affairs. From 1989 until 1995, he served as chief counsel to the Pennsylvania Fish and Boat Commission, while also serving as staff judge advocate for the Pennsylvania Air National Guard. In 1996, he assumed additional responsibilities as deputy executive director of the Fish and Boat Commission, serving as chief of staff and supervisor of executive office functions, in addition to his duties as chief counsel.
Governor Rendell appointed Guise as Chief Counsel for the Department of Military and Veterans Affairs in March 2004. As chief counsel, Mr. Guise and his staff provided a wide variety of legal services on issues ranging from homeland security and the National Guard to veterans homes and programs. Guise retired from Commonwealth employment in February 2014.
The Pennsylvania Bar Association chose Guise as Pennsylvania Government Lawyer of the Year for 2012. He was selected for the Department of Military and Veterans Affairs Hall of Fame in 2010. The National Guard Association of the United States awarded him the Patrick Henry Award in 2006.
Mr. Guise contributed to a number of community activities. He was a member of the Lower Paxton Township Planning Commission for 34 years. He coached youth baseball for the Linglestown Baseball Association and coached youth soccer. Guise was a director of the Pennsylvania Veterans Foundation, the Pennsylvania National Guard Associations, the National Guard Association of Pennsylvania, the Pennsylvania National Guard Scholarship Fund, and the Ralph W. Abele Conservation Scholarship Fund. Guise served as President of the Gettysburg High School Alumni Association from 2013 until 2015. He was also a member of the American Legion Post 202 and Trinity United Church of Christ in Gettysburg.
A Memorial service will be held, Monday, October 31, 2016 at the Keystone Conference Center on the grounds of Fort Indiantown Gap Military Base at 2:00 PM. Interment will be in Fort Indiantown Gap Military Cemetery on Monday, October 31, 2016 at 12:30 PM. In lieu of flowers memorials can be made to the Pennsylvania Veterans Foundation, PO Box 98, Annville, PA 17003 or PA National Guard Foundation, c/o Kara Kintzel, Sec., Bldg 7-36, Fort Indiantown Gap, Annville, PA 17003. Online obituary and condolences available at monahanfuneralhome.com.
Read More
Previous Events
Graveside
Fort Indiantown Gap Military Cemetery
Indiantown Gap Rd.
Annville, PA 17003
Service
Keystone Connference Center
Ft. Indiantown Gap Military Base
Annville, PA
Cemetery Details
Location
Fort Indiantown Gap Military Cemetery
Indiantown Gap Rd.
Annville, PA 17003