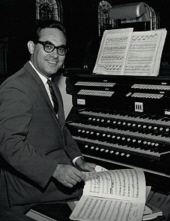 Obituary for Dexter Neil Weikel
Esteemed music professor, organist and church musician Dexter Neil Weikel, 92, of Gettysburg died at the Gettysburg Hospital on November 1, 2018. He was born May 20, 1926 in Espy, PA to the Rev. John J. and J. Grace Weikel and is survived by his wife of 61 years Margaret ("Peggy") Maitland, and daughter and son-in-law, Megan Weikel and Eddie Rankin, all of Gettysburg. Additional survivors include his brother Gail Rine Weikel of Chittenden, VT; grandchildren Laurel Rankin of Los Angeles, CA and Devon Rankin of Birmingham, AL; and 2 nieces and 3 nephews. He was predeceased by his brother, Derl E. Weikel, of Lewisburg, PA.

Weikel's career as church musician was established early when his father, a Lutheran pastor, occasionally pressed him into service as substitute for the parish's organist. His professional career as organist and choir director began at Messiah Lutheran Church in Williamsport, PA in 1948. He served in the same capacity at Christ Lutheran Church in Gettysburg after a career at Gettysburg College as Professor of Music, Chapel Organist and Chapel Choir Director that spanned over a quarter century. While at Gettysburg Weikel also served as Music Department chair and a member of the Faculty Executive Committee. Upon his retirement, the college named him Professor Emeritus of Music.

Professor Weikel earned his bachelor's degree in music education from Susquehanna University in 1948. He was hired by the university in that year as an instructor in organ and church music when his organ and theory professor became ill. He continuously credited this experience for forging his path to Gettysburg College when Parker Wagnild, Music Department founder, recruited him to the faculty in 1962.

Weikel's education also included studies in organ at the Guilmant Organ School in New York and with E. Power Biggs at the Andover Organ Institute in Massachusetts. Pennsylvania State University conferred a master's degree in music in 1960, and he earned a doctorate in organ with studies in liturgical music from Baltimore's Peabody Conservatory of Music in 1977.

Professor Weikel's keyboard and conducting skills were honed during summers at the Eastman School of Music, Westminister Choir College, and at the Royal School of Church Music in London, where he also spent a sabbatical. In 1979 Weikel became a National Endowment for the Humanities fellow for a seminar on "The Integration of Harmony, Counterpoint and Analysis." His published work includes articles for the Journal of Church Music and a book coauthored with Gettysburg Seminary Professor Gerald Christianson, Bach, the Well-tempered Church Musician.


Of Weikel's long tenure at the college, fellow Music Professor Emeritus Norman Nunamaker said: "Dexter was a beloved member of the faculty and was always available for students who wished to go the extra mile in their desire to excel. Under his direction the Chapel Choir became an outstanding ensemble not only for its contributions to chapel services but to the community at large and in tours."


Many others have also paid tribute to Weikel's passion for excellence, dedication to his students and personal graciousness. Former students, some of whom affectionately called their beloved professor "Daddy Weikel," recall how the Weikel home was known for outstanding hospitality. The Weikels were especially supportive of college students who needed a home away from home.


Following his retirement from the college in 1988, Weikel became Adjunct Instructor in Hymnody at Gettysburg Seminary and a musical arts resource person for the Lutheran Church's Lower

Susquehanna Synod. He continued offering private organ and theory lessons, and kept in touch with and followed the careers of many of his former students. He also tutored a number of students as a volunteer with the Adams County Literacy Council.


Gettysburg College President Janet Riggs summed up Weikel's lasting influence: "Dexter was a beloved member of Gettysburg College's music faculty across three decades, from the early 1960s through the 1980s. A few years ago a survey asked our alumni to name the one person on campus who had the biggest impact on them. Dexter was among the top five retired faculty who were named. He will be remembered not only as a talented musician and dedicated teacher, but also as a warm, caring person, whose kind spirit left a mark on many."


Among the many highlights of his professional life, Weikel was organist for the Gettysburg memorial service honoring President Dwight Eisenhower. He also played for the wedding of the late president's granddaughter, Susan Eisenhower.


A memorial service celebrating Dexter's life will be held at Christ Lutheran Church, 30 Chambersburg Street in Gettysburg on Saturday, December 1, 2018 at 10:30 a.m. The Rev. Stephen Herr, one of Weikel's former students, will preside, with additional former students serving in significant roles. The family will also greet well-wishers at the church on Friday, November 30 between 6:00pm and 8:00pm. Memorial gifts to Christ Lutheran Church's Dexter and Peggy Weikel Fund for Music Ministry may be given at the service or sent by mail. Gifts may also be sent to Susquehanna University or given on line (susqu.edu) in support of its organ program. Letters may be addressed to Tammy Ozlanski, Office of Advancement, The Susquehanna University, 514 University Avenue, Susquehanna, PA, 17870.
Read More
Previous Events
Visitation
Christ Lutheran Church
30 Chambersburg Street
Gettysburg, PA 17325
Service
Christ Lutheran Church
30 Chambersburg Street
Gettysburg, PA 17325