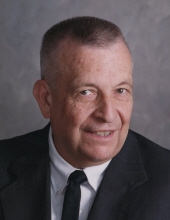 Obituary for Donald Holly Fortnum
Dr. Donald Holly Fortnum, 88, Professor of Chemistry, Emeritus, Gettysburg College, died Tuesday, February 2, 2021, at Gettysburg Hospital with his family by his side. Born April 2, 1932, Don was the son of the late Niels and Ruth (Holly) Fortnum. Growing up in Berlin, WI, next to his family-owned machine shop and automobile dealership he enjoyed managing the football and basketball teams and playing golf, tennis, and chess. In addition to being selected to Badger Boys State, Don was awarded the honor of Eagle Scout.

Don earned his Bachelor of Science degree in Chemistry and Mathematics from Carroll College in May 1954. While at Carroll, Don was president of the Delta Rho Upsilon fraternity, Interfraternity Council, and Wesley Fellowship. A member of the Student Christian Association, the House Council, the publications committee, the American Chemical Society, the staff of the student paper, and the intramural program, he was also elected to Delta Sigma Nu scholastic honor society.

In 1958, Don graduated with a Doctorate in Chemistry from Brown University in Providence, RI. Providence is also where he met the love of his life, the late Emily (Waters) Fortnum (2014), a nursing student at Pembroke whom he met through the Wesley Fellowship. They married in 1958, the same year Don began teaching chemistry at Ursinus College.

In 1965 Don became a member of the chemistry faculty at Gettysburg College teaching Physical Chemistry in addition to other courses. He was appointed a full professor in 1972--the same year he was selected to Outstanding Educators of America. At Gettysburg Don shared his love of both chemistry and computers becoming an early adopter of the emerging technology. His final exams were filled with challenging equations but also inspiring quotations and jokes served with a table full of snacks including homemade chocolate chip cookies.

A member of the Gettysburg United Methodist Church, Don was active in leadership roles and taught Sunday school classes for many years.

In 2000, the year of his retirement, Don became a grandfather--a role that he relished providing a preschool filled with nursery rhymes, poems, storytelling, songs, games, computers, and crafts and in later years tailoring activities to the unique interests of each of his four granddaughters. In retirement he and Emily enjoyed attending their grandchildrens' programs and activities, dinner theatre, and local musical theatre productions, but especially enjoyed hosting their children and grandchildren for frequent family dinners--a tradition he continued after Emily's death.

Don's interests included photography and Apple computers participating in the Washington Apple Pi and the Keystone MacCentral user's groups until recently. He was also a gifted storyteller, avid reader, and curator of books, news articles, comics, music, and anecdotes to share with his family.

Don is survived by his brothers Theodore (Sherrill) of Tomball, TX, and Richard (Sharon) of Berlin, WI; his four children, Holly Thompson (Bob) of Lusby, Md., Timothy of Gettysburg, Emily Nardella (Joseph) of Mechanicsburg, and Thomas (Tricia) of Gettysburg; four grandchildren, Meghan, Abby, Katie, and Laura; and nieces and nephews.

A private family service will be held with interment in upstate New York.

Don led his family by example with a strong Christian faith, work ethic, kindness, integrity, and love of learning. A steadfast caregiver, Don was by Emily's side during her two year illness. Another testament to his dedication is his induction to the Pennsylvania Voter Hall of Fame in September 2016 for 50 consecutive years of voting in general elections (a streak he continued through 2020). One of the greatest lessons he taught is that just about anything can be handled with humor. He made his corner of the world a better place one chocolate chip cookie at a time delivering the goods to caregivers and other helpers with his signature label "When the Chips are Down, Down the Chips."

Memorials for Don can be made to Local Disaster Relief, Adams County American Red Cross, 230 Greenameyer Lane, Gettysburg, PA 17325 or to Gettysburg United Methodist Church, 30 W. High Street, Gettysburg, PA 17325.

A Memorial Service will be private and at the convenience of the family. Interment will be in Glenwood Cemetery, Homer, NY at a later date.
Read More
Events