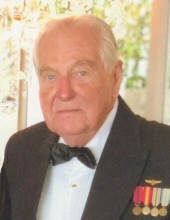 Obituary for Donald Wayne Richmond
CDR Donald Wayne Richmond, USNR RET, 89, Mason Dixon Road, Gettysburg, PA passed away at his home on Tuesday, May 4, 2021.

He was born July 15, 1931 in Armstrong, Iowa the son of the late Wayne and Bernice Pruell Richmond. Donald is survived by his wife Marilyn Thompson-Richmond, a son, Timothy W. Richmond of Gettysburg, PA, a daughter-in-law, Jodi Richmond of Littlestown, PA, two grandchildren; Heather Hamilton, Scott Richmond, two sisters; Barbara Tolsdorf of Lebanon, Missouri, and Dolores Schnittjer of Nashville, TN and several nieces and a nephew. He was predeceased by his first wife, Joyce Rossiter Richmond and a son, Terry S. Richmond.

As an Iowa Farm Boy, working in the fields, he would look up at the airplanes flying overhead. Often wondering where they were going and how wonderful it must be. At the same time in WWII, his uncle was flying in B-17s in The Pacific, which increased his motivation to be one of them. His 15th birthday gift from his parents was: a ride in a Piper Cub at the local county airfield once used in WWII to train pilots. At the next Christmas they also gave him a wooden B-17 painted in combat colors with leather props, and a cardboard cockpit with instrument panels, stick, throttle and rudder pedals. The dye was cast to be a pilot.

Preparing for the future; 1949-1954. While attending Iowa State College, Ames Iowa, he graduated with a B.S. degree in Animal Husbandry. At the same time he was enrolled in the NROTC Unit. Upon graduation he received a commission as an Ensign USNR and was selected to go on active duty at NAS Pensacola to commence Naval Aviator Flight Training. This was an experience and education of a lifetime with rewarding untold future benefits. Flight training was done in the SNJ-T6 Texan. He was required to be Carrier Qualified in this plane onboard the USS Saipan CVL 48, a late WWII light carrier with a deck length of 684 feet. Additionally, a midshipmen cruise was required between his JR and SR year in college. This was done on board the USS Columbus CA-74 Heavy Cruiser with 16" main battery guns in the Caribbean Sea, sailing out of Norfolk, VA.

Advanced Flight Training, this was held at NAS Hutchinson, KS. Flight training was done in the SNB, P2V 2-4s, cross country navigation in the converted B-24 Bomber (then called the P4Y2 by the Navy). Additionally, cross country flights required Celestial Night and Daylight Sun Line Navigation experience. Graduation as a Naval Aviator with Wings of Gold occurred in May of 1956.

Naval active duty, NAS Atsugi, Japan from July 1956 – July 1958. Squadron mission was to support the 7th fleet with target towing, photo recon, etc, with detachments at Naha, Okinawa and Cubi Point, Philippines. Aircraft that were used included the JD-1 (former WWII A-26), SNB, F9F-5 Panther Jet.

NAS Whidbey Island, WA, July 1958 – December 1959. Squadron mission was to search, detect and record information on Russian Submarines off the West Coast of the US, flying P2V-7 anti-submarine bomber with detection capabilities. Later deployed to MCAS IWAKUNI, JAPAN for six months with the same mission, flying around the Sea of Japan off the Russian East Coast.

NAS Pensacola & NAS Whiting Field, from July 1961 – July 1965. At NAS Whiting Field, he served as Flight Instructor in the Instrument Phase in the T-28C Trojan aircraft. Later was selected to serve on the Chief of Naval Air Basic Training Command Staff at NAS Pensacola, FL. Duties being Student Personal Officer writing officer fitness reports, assigning graduates to advance flight training commands, flying the T-28 and T-34 in support of the NAFO School Training.

Naval Research Lab in Washington, DC, July 1966 – July 1968. Mission was to fly research projects for different departments, involving infrared and cloud seeding with S2F, R4D and Super Connie aircraft. Deployments were to Bahamas, Puerto Rico, Europe, etc. The R4D was a specialty equipped plane with a bomb bay door and autopilot.

He retired in July of 1975 as a CDR with 21 years of service (12 active and 9 in reserve).

Don began a second career as an airline pilot in January 1960 - 1965 with Ozark Airlines in St. Louis, MO. Flying domestic routes in the Midwest flying DC-3s, Fairchild F-27 and F-227H aircrafts. Then went to work for Eastern Airlines, Miami, FL. Flying domestic, international flights to Canada, Latin and South America, the Caribbean flying the DC-9, Boeing B-727s and the Lockheed L-1011 as a Co-Pilot and Captain, retiring as a Captain with Eastern Airlines after 21 years of service in June 1987.

In related aviation activities from June 1987 – April 2015 included Consulting and Marketing trips to Russia, promoting the small amphibian plane "PONY" in the U.S. Market. Consulting and Marketing trips to Poland, promoting the Warsaw Polish PZL line of the Koliber & Wilga aircraft, U.S. Certified. As the Mid-Atlantic dealer and Representative continuing to provide service, sales and parts availability.

He became involved with Falcon Wings Aviation, an aircraft brokerage and appraisal business, doing aircraft sales, appraisals for; IRS, Bankruptcy Courts, Banks, Museums, Estates, AOPA, and Government Contractors.

He also owned and operated Richmond Realtors, Inc. in Fairfield, PA for a number of years. A local real estate firm dealing in property resales and appraisals.

He was Past President of the Hanover-Adams County Board of Realtors, Past Keyman and Governor of the HGR QB Hangar.

In his career in the military he has flown; SNJ-T-6 Texan, T-34, T-28C, SNB, P2V-7 Nepture ASW Patrol Bombers, S2F Tracker, R4D, JD-1 (former A-26), F9F-5 Panther and in the airline career; Lockheed L-1011, Boeing 727s, Douglas DC-9, Douglas DC-3, Fairchild F-27 and F-227H and private aircraft flown; IAI Westwind 1124, Piper PA-38-12 Tomahawk, Piper PA-28-150 Warrior, Piper Cherokee PA-28 150/160, Grumman Tiger, Cessna 150-152-172-182. His total hours of flight time, military, airlines and civilian are over 15,000+ hours.


Funeral services will be held Tuesday, May 11, 2021 at 2:30 PM from Gettysburg United Methodist Church with Rev. Rick Smith officiating. Interment will be in Evergreen Cemetery, Gettysburg, PA. There will be a viewing at the church on Tuesday from 1:30 PM until the time of the service. In lieu of flowers memorials can be made to a favorite charity. Online obituary and condolences available at monahanfuneralhome.com.
Read More
Previous Events
Visitation
Gettysburg United Methodist Church
30 West High Street
Gettysburg, PA 17325
Service
Gettysburg United Methodist Church
30 West High Street
Gettysburg, PA 17325
Cemetery Details
Location
Evergreen Cemetery
799 Baltimore St.
Gettysburg, PA 17325