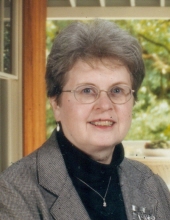 Obituary for Donna Raye Keller Finafrock
The organ and piano keys are still, the chords are quiet; the knitting needles have stopped clicking, the crochet hooks have stopped gliding through the many loops of yarn, the quilting needles and thimbles have been laid to rest as has Donna Raye Keller Finafrock. Donna was born on January 30, 1938 and was the daughter of the late LeRoy and Evelyn (Miller) Keller of Chambersburg. She fought a courageous and brave battle against leukemia for nearly a year and entered heaven's eternal gates on April 19, 2017. Surviving are her husband of 57 years, Robert E. Finafrock, formerly of St. Thomas and a resident of Orrtanna for the past 50 years; Children: Son, Timothy Finafrock and his wife Marti (Thomas) of Fairfield; Daughter, Kimberly Donaldson and her husband David of Fairfield; Son, Jonathan Finafrock and his wife Larisa (Sudakova) of Downingtown, PA; Son, Jaymes Finafrock and his wife Margaret (Wolters) of Fairfield; Daughter, Angela Brasee and her husband Jay of Cashtown. Also surviving are her eleven beloved grandchildren: Capt. Jacob Donaldson and his wife Amber (Galloway), Andrew Donaldson, Jessica Finafrock, Erin Donaldson, Rebekah Finafrock, Abigail Finafrock, Jenna Brasee, Lyndsey Brasee, Melisa Finafrock, Carolyn Finafrock and Evan Finafrock; a brother, Gary Keller and wife Jenny of Chambersburg; a sister-in-law, Doris Ferry and her husband Earl from Chambersburg; and several nieces and nephews. Donna was preceded in death by twin grandsons, Henry and Herbert Finafrock.


Donna graduated as the valedictorian of St. Thomas High School in 1955. She graduated from Indiana University of PA earning her Bachelor's of Science Degree in Home Economic Education in May 1959. In her 40's, she earned her Elementary Teaching Certificate as well as her Master's Degree in Education from Shippensburg University while also raising her five children. She began her career teaching 7th and 8th grade sewing at Bell-Wood Antis Jr. High in Blair County near Altoona before moving to St. Thomas in 1960. She then taught Nutrition at the LPN School of Nursing in Chambersburg for 6 years. She was also a substitute teacher in Adams and Franklin Counties for 16 years. Donna taught a total of 29 years, retiring in 2006 from Gettysburg Middle School, ironically teaching sewing to 7th and 8th grade students, ending her career as she began it. She also was a 4H Organizational Leader for 18 years, creating the PA State Knitting and Crocheting project books. She was able to share her passion of playing the piano by providing lessons to several students including her grandchildren. She also gave private sewing and knitting lessons in the community. Donna truly loved teaching in every aspect and was very passionate to engage in as many opportunities and activities as she could.


Donna loved many vacations with her family, the multiple family outings to musical adventures and going to the beach! She and Robert took many trips throughout the US and enjoyed going on cruises. Donna loved to play games with her grandchildren. She spent many hours working on charity projects: hats and blankets for newborns at Gettysburg Hospital; she began "Warm Up America" knitting afghans and prayer shawls to be given to individuals needing extra warmth and love; Donna helped to create the "Amazing Grace Quilters" and made quilts that have been donated to the Homeless Shelter, Survivors and the Children's Advocacy Center.


Donna was a faithful servant to our Lord by playing the organ for many decades at the Orrtanna United Methodist Church. She was the church Financial Secretary for 43 years and was also a cook for many of the popular OUMC Chicken Dinners.


Donna was diagnosed with leukemia in April 2016. The family greatly appreciates the wonderful care, love and support from Dr. Satish Shah and his entire staff – you have become our extended family. We would like to thank all the doctors, nurses, and assistants at the Wellspan Infusion Center, Gettysburg Hospital, Hershey Medical Center, York Hospital, SpiriTrust Lutheran Hospice and Home Care, and Preferred Health Staff for all the efforts given to help her fight this disease. The family would also like to extend a gracious thank you for all the support provided by friends and family through cards, meals, visits and prayers. The family is eternally grateful for all the anonymous individuals who selflessly donated blood, extending Donna's life to the fullest.


A memorial service to celebrate Donna's beautiful life will be held 1:00 PM, Sunday, May 7, 2017, at the Calvary United Methodist Church, 150 Norlo Dr., Fayetteville, PA with Rev. Kim Phillips and Rev. Suzanne Elliot officiating. The family will receive friends from 12:00 until the time of the service Sunday at the church, and a reception is to follow the services in the church social hall.




In lieu of flowers, the family requests to continue Donna's spirit of giving and her love for others by making donations to the Warm Up America and Amazing Grace Quilters projects. Checks can be made payable to the Orrtanna United Methodist Church, 1717 Carrolls Tract Road, Orrtanna, PA 17353. Donna would also be touched by donations to help cancer patients needing assistance through the Adams County Community Foundation/GCC, c/o Gettysburg Cancer Center, 20 Expedition Trail, Suite 101, Gettysburg, PA 17325.


Please consider donating blood every chance you can so that others can enjoy additional time with their loved ones, just as Donna was able to do. Online obituary and condolences available at monahanfuneralhome.com.
Read More
Previous Events
Visitation
Calvary United Methodist Church
150 Norlo Dr.
Fayetteville, PA 17222
Service
Calvary United Methodist Church
150 Norlo Dr.
Fayetteville, PA 17222