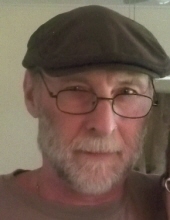 Obituary for Donovan Maxwell
Paul S. "Donovan" Maxwell, 62, Shippensburg Road, Biglerville, PA died Thursday, December 27, 2018 at the York Hospital.

He was born July 3, 1956 in Butler, PA the son of the late Eileen Kallander and step-son of the late Benjamin C. Kallander. Donovan is survived by his beloved wife, Anne Filipiak Maxwell.

Donovan was an active member of the Living Hope Presbyterian Church in Gettysburg, PA. He was a veteran of the US Army where he served in Germany. Donovan was employed for many years at Lockheed Martin and later at Leonhardt Manufacturing in Hanover, PA. Most recently he and his wife own and operated Maxwell Farms in Biglerville, PA where they raised produce, flowers and herbs. Donovan loved history, playing music on his guitar, studying his Christian faith and having conversation with his various friends. He and his wife also shared a love for penguins and were working on a penguin cartoon for children.

In addition to his wife he is survived by two brothers; Todd and Kirk Maxwell of the Butler area and two step-sisters Dottie and Lois also of Butler and Loretta of Florida.

Funeral services took place last Saturday, December 29, 2018. In lieu of flowers memorials can be made to Living Hope Presbyterian Church, 155 Early Avenue, Gettysburg, PA 17325.