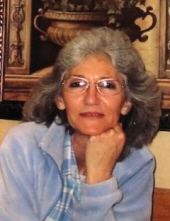 Obituary for Doris Jean O'Roark
Doris Jean O'Roark of Gettysburg, PA passed away peacefully at her home in the loving arms of family on Dec. 28th, 2022. She was born December 1st, 1946 in Harrisonburg, VA. She was the daughter of the late Velma K. Woodward and James F. Cline Sr.
She was an avid gardener with love of flowers, family, little trinkets, what-nots.
She's called, Mom, Mamaw and Mee-Maw but now we call her our angel.
She is survived by 3 daughters… Dolly Kay Sheppard (Warren Sheppard) of Gettysburg, PA, Lori Ann Collins (Scott Collins) of Oklahoma City, OK and Debbie Jean Strickler (David Strickler) of Harrisonburg, VA., a loving sister, Evaline Elizabeth Oliver of Gettysburg, PA, Six grandchildren and ten great-grandchildren, many nieces and nephews. She's predeceased by a brother, James F. Cline Jr and a beautiful grandson, Tyler Scott Collins.
Monahan Funeral Home has handled all the arrangements. At the request of family, there will be no services. Her celebration of life continues through all who knew and loved her.
Special Thanks to Dr. Kelly Miller of Gettysburg Internal Medicine for taking such good care of her for so long as well as our nurses at Amedisys Hospice with a special blessing for Emily DeFriece who always went above and beyond.
Read More
Events