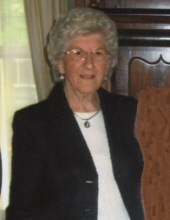 Obituary for Dorothy (Myers) Deardorff
Dorothy (Myers) Deardorff, 89, of Fairfield, PA died Wednesday evening, October 20, 2021 at the SpiriTrust Lutheran Home, Chambersburg, PA.
Born December 24, 1931 in Fairfield, PA she was the daughter of the late Earl and Virgie (Sanders) Myers. She was the wife of the late Jerry Deardorff who died in 1985.
Mrs. Deardorff worked at El Vista Orchards and Knouse Foods for many years.She loved being with her children and grandchildren and cooked Sunday dinners for all of her family up until recently. She loved gardening and taking care of her property. She enjoyed playing bingo with her friends and going to dinner with her friends. She was very active with the Fairfield Fire Company and t heir bingo program.
Dorothy is survived by her three children, Gary Deardorff, of Arendtsville, PA, Kevin Deardorff and his wife Lynn, of Cashtown, PA, Deborah Fitez and her husband Robert, of Fairfield, PA, five grandchildren, Robert Fitez, Jr. and his wife Brandy, Michelle Redding and her husband Patrick, Greg Deardorff, Holly Deardorff, Kyle Deardorff, and seven great grandchildren. She was preceded in death by her son, Brian Deardorff, her two brothers, Edward Myers, Harry Myers, and her two sisters, Doris Weikert, and Ellen Shimchock.
A graveside service for Dorothy will be held privately at the convenience of the family at the Fairfield Union Cemetery, Fairfield, PA. The family will have a celebration of life for Dorothy, on Tuesday, October 26, 2021 from 12-2 PM, at the Fairfield Community Fire Company Social Hall, 106 Steelman St., Fairfield, PA for her family and friends. The Monahan Funeral Home is in charge of the funeral arrangements and online condolences may be made at monahanfuneralhome.com.
Family suggests memorial contributions be made to the Fairfield Fire Company, 106 Steelman St., Fairfield, PA 17320.
Read More