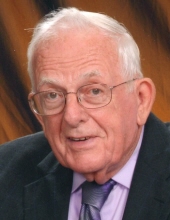 Obituary for Dr. James Hunter Hammett
Dr. James Hunter Hammett, MD, 94, passed away peacefully on August 15, 2018 with his wife, Ruth, friends and family at his bedside.

Jim was born July 10, 1924 in Clairton, Wilson Borough, PA and was the first of two sons of Mary Lynette Hunter Hammett and Dr. James Marshall Hammett, MD.

He graduated from Clairton High School in 1942 and started college at Washington and Jefferson College (W&J) in Washington, PA. A year after Pearl Harbor he enlisted in the Army and served in the European theater. He was involved in establishing field hospitals in France and Germany. He was attached to the 82nd Airborne and assisted in preparation of glider contingents headed for D-Day. Having no pilot for their glider his group entered France the next day. At the end of his military service he served as medical staff sergeant caring for General George Patton after the General suffered a fractured neck in an accident. He was with the General when he died in Germany. Following his military service he attended W&J and was granted early acceptance to Temple Medical School under the GI bill.

After the war he married his high school sweetheart Nancy Jeane Yant and they enjoyed over 60 years of marriage until her passing in 2007. In 2009 he married the second love of his life, Ruth Wagner Yant and they reveled in each other for over nine years celebrating their marriage monthly and claimed to have over a hundred "Anniversaries".

After graduation from Temple he settled in Fairfield, PA and practiced there in Family Medicine for over 50 years. He loved his patients and was willing to care for his friends and neighbors 24 hours a day if necessary. He made innumerable house calls and delivered thousands of babies.

In the Fairfield community he and his wife Nancy Jeane restored the Fairfield Inn and moved on to a similar venture at Hickory Bridge Farm.

He is a Fellow in the American Academy of Family Practice and was a chartering member of that academy. He belongs to the AMA, PA Medical Society and Adams County Medical Society. He is a loyal member of Saint John Lutheran Church in Fairfield. He has been a life member of the Fairfield Fire and EMS. Prior to Medic 28 he was active in Advanced Life Support for the Fairfield area. He is a charter member of the Fair Squares and Cannonaders Square Dancers. He was a senior member of the Fairfield Lions Club for over 50 years. He has supported several generations of scouts Boy Scout Fairfield Troop 76.

Jim is survived by sons and stepsons; James Newton Hammett, DO and his wife Mary Lou, Reverend David Marshall Hammett and his wife Kay Reed, Gordon Ley and his wife Diane Kepner, Daniel Scott Yant and his wife Cindy, Mark Newton Yant and his wife Heather, a daughter, Mary Lynn Martin and her husband Robert, 14 grandchildren, 16 great grandchildren, and a daughter-in-law, Sherry Hammett. He was predeceased by his brother, Reverend Edward Shirley Hammett and a son, Daniel Edward Hammett.

Funeral services will be held Wednesday, August 22, 2018 at 1:00 PM at St. John Lutheran Church, Fairfield, PA with Rev. Beverly Lange Donella officiating. Interment will be in Fairfield Union Cemetery. There will be a viewing at the church on Tuesday evening from 6:00 PM until 9:00 PM and Wednesday at the church from 11:30 AM until the time of the service. In lieu of flowers memorials can be made to St. John Lutheran Church, 13 East Main Street, Fairfield, PA 17320 or the Fairfield Fire Company, 106 Steelman Street, Fairfield, PA 17320.
Read More
Previous Events
Visitation
St. John Lutheran Church
13 E. Main St.
Fairfield, PA 17320
And Wednesday at the church from 11:30 AM until the time of the service.
Service
St. John Lutheran Church
13 E. Main St.
Fairfield, PA 17320
Cemetery Details
Location
Fairfield Union Cemetery
West Main St.
Fairfield, PA 17320