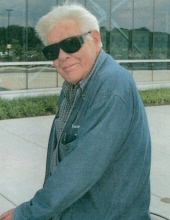 Obituary for Dr. John Michael Blanche
Dr. John Michael Blanche, STD, of Fairfield, Pennsylvania, Entered into Eternal Rest, Saturday, 18 February, 2017, at age 87. He Died Peacefully, at Transitions Health Care Facility, in Gettysburg, Pennsylvania, as he was Visited by various Friends & Family. For several years, John had been suffering with Breathing Problems, mostly due to complications of severe COPD.


John was Born on 18 December, 1929, in Charleston, SC, the Son of John Matthew Blanche & Eva Holsonback Blanche, of Charleston. John attended St. Patrick's Grammar School & Bishop England High School, in Charleston, SC, Graduating with Honors. He later attended St. Charles Borromeo College, in Catonsville, Maryland, Graduating in 1950 with his BA Degree; & the Gregorian University of North America, in Rome, Italy, where he earned his Doctorate in Sacred Theology in 1963. At that time, John was the First Layman in the Catholic Church in America to have Earned the Doctorate in Sacred Theology! In between St. Charles Borromeo College & the Gregorian University, John Served 2 years in the US Army, as Chaplin's Assistant. He later used his GI Bill to continue his Education. John was Professor of Theology at Georgetown University, in Washington, DC, & at St. Joseph's College, in Emmitsburg, Maryland. After St. Joseph's College closed, in 1972, John Worked for many years at Musselman's Cannery & then Dahl Tile, before Retiring in 1999. In Retirement, John spent his Time enjoying the Company of his Pets, his Books, his Friends & the Opera.


Anyone who knew John knew that he was a Sky Watcher, in that he could Identify & Name the Planets, Stars & Constellations in the Zodiac; and, he would always Comment on when the Summer & Winter Solstice & the Vernal & Autumnal Equinox would occur. He was always E-mailing or Calling his Friends, telling them when the ISS (International Space Station) could be observed in the Sky, i.e., Time, Degree, Angle, etc. John had his Small Plane Pilot's License & truly Loved Flying. And, for a time, he owned & rode his Horse, "Trojan 'Orse", once Riding Trojan into the City of Fairfield to Deposit his PayCheck, at the Drive Up Window of his Bank. John volunteered with the Scouts, helping Raise Money for various Worthy Causes. And, from his time spent at University, in Rome, John became a Lover of Opera; probably knowing more about Opera that anyone. Over the years he managed to accumulate over 800 Cassette Tapes & over 200 LP Records of just about every Opera imaginable. On numerous occasions, he would Organize a Group of Friends for a Trip to the Opera, sometimes the Opera House in Baltimore, sometimes the Kennedy Center in Washington, or other places.


John was an Avid Reader & believed highly in the Value & Benefits of an Education. This is evident in that he would never want anything to go to waste, if it could be used to Help &/or Educate others. In fact, he found it almost impossible to throw away Books or Magazines, such as National Geographic, etc., as he though some School Kid might

be able to Learn from these things. Even in "The End", John was thinking of Educating & Helping others. He was an Organ Donor & wanted his Body to be Donated to Science, to be used by Medical Students. In this way, John will be a Teacher long after he's left this Earthly Realm.


The Great Love of John's Life was his Pets: his Horse Trojan; his Dogs Blick, Achille & Arcangelo; and, his Kitties Giuseppe, Giacomo, Cupido, Valentino, Amorea, Weasel, Aida & so many others. Some of these he Adopted or Rescued, some were left at his Door & others simply Wondered into his Yard, somehow knowing it was the Home of an Animal Lover. Anyone who knew him would tell you that he'd spend his Last Dime & Go Without things for himself so he could take a Sick Animal to the Vet's & that he'd spend days & nights Nursing a Sick Kitten Back to Health! He was always making Donations to various Charities, such as The Humane Society, the ASPCA, Catholic Charities, St. Jude, etc.; and, he would give Financial Aid to Students. John will be Remembered as a Loyal, Generous Friend, never known to have an UnKind Word for anyone.


John is Proceeded in Death by his Father & Mother, John Matthew & Eva Holsonback Blanche, & his Sister, Alice Galaso. John is Survived by his Sisters, Helen Blanche Leary, of Madison, Wisc., & Anne Blanche Brightwell, of Stockbridge, Ga., & by his Brothers, Clifford A. Blanche, of Summerville, SC, & Alan F. Blanche, of North Charleston, SC. John will be Remembered & Missed by his Dear Friends of many years, among them Jozef Antolin, of Santa Clara, Calif., his Neighbors, John & Susan Strahler, of Fairfield, Penn., Matthew Wentz, of Orrtanna, Penn., Dr. Mary Baskerville, of Gettysburg, Penn., Deb Gemmell, of Gettysburg, Penn., Sherrie DeMartino, or Fairfield, Penn., & many other Dear Friends, too numerous to mention.


John's Family & Friends would like to thank the Staff & Care Givers of Transitions Health Care Facility, in Gettysburg, Penn., for the Care, Kindness & Love they showed John. John's Ashes will be Buried at a Later Date, in Charleston, SC, next to his Mother & Father. John had requested that in lieu of Flowers, Memorial Contributions be made in his Name to the Adams County SPCA or the Adams County Library, in Fairfield, Penn.