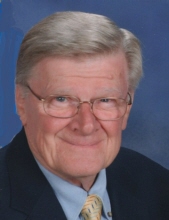 Obituary for Dr. John Roland Winkelmann
John Roland Winkelmann, Professor Emeritus of Biology at Gettysburg College, died peacefully on Tuesday, October 13th surrounded by his family. Born August 2nd, 1931 in Champaign-Urbana, IL, he was the son of the late Attorney Roland E. Winkelmann and Gail Gaunt Winkelmann. John is survived by his beloved wife of 58 years, Helen Janosik Winkelmann of Gettysburg; daughter Anne Louise Winkelmann of Atlanta, GA; son Richard Janosik Winkelmann and his wife Cynthia of Gettysburg; son David Janosik Winkelmann and his wife Heather of Fairfield, CT; and son James Gaunt Winkelmann and his wife Hillary of Richmond, VA. John and Helen have 6 grandchildren: Abigail and Lily Winkelmann, Madeleine and Thomas Winkelmann, and Vivian and Henry Winkelmann.
John was a 1950 graduate of Urbana High School, earned a BA in Zoology from the University of Illinois at Champaign-Urbana, and an MS, PhD in Zoology from the University of Michigan at Ann Arbor, where he met his future wife Helen as a fellow graduate student. His education was paused by 2 years of service in the United States Army, stationed in a medical unit in Germany.

In 1963 John accepted a teaching position at Gettysburg College, where he went on for 50 years to educate thousands of students in the biological sciences, many of whom went on to professional careers in science and medicine themselves. John's early career focused on field research in Arizona, Mexico, Costa Rica, and Belize, where he specialized in baseline research on mammalian populations. In the hills of the Mexican Sierra Madre outside Chiapas, he collected a voucher specimen of Mexican deer mouse, Peromyscus Winkelmanni ("Winkelmann's Mouse"), which was subsequently named in his honor.

In the latter half of his career, John shifted continents, landing him and his students and colleagues in Australia, Papua New Guinea, New Britain Island in the Solomon Sea, Ecuador and the Galapagos, and most affectionately in South Africa's national parks – the lion's share of which he spent in Kruger National Park. Known internationally as a bat research expert, John was a member of the board of directors for the North American Society for Bat Research, which in 2005 bestowed a lifetime achievement award in recognition of a long and distinguished career in bat biology, being only the third recipient since the award's inception.
In addition to his teaching and research efforts, John served as a bat consultant to the BBC Television David Attenborough series, and a National Geographic Society film on bats. On numerous occasions, he lent his time and expertise to the Neighborhood Watch Bat Removal Committee, and on at least one occasion, graciously offered his advice to the Gettysburg Times on a column concerning the removal of bats from one's chimney.
Notable contributions to the scientific literature include papers presented to various professional societies, textbook and journal article reviews, as well as numerous publications to the Journal of Mammalogy, Biotropica, Journal of Tropical Ecology, and others.

John's love of travel, exploring new places, and the natural world extended deeply into his personal life. As a boy growing up in Illinois he loved to hunt, fish, and ride his horse. He spent summers at the family cottage at White Lake, MI canoeing, fishing, and boating, and continued the tradition with his own family for many years. Subsequently they turned south, landing in Topsail Beach, NC, where for decades the extended family enjoyed vacations sailing, crabbing and fishing, boating, and of course birding. John was an avid birder, having logged species across 5 continents and instilling the same love of wildlife and outdoor adventure into his children.

In his more relaxed moments, John was an armchair historian and voracious reader, indulging interests in US social, political, and military history. Drawing a contrast to his scientific side, John nurtured a love of the arts: he played guitar and loved music of all varieties and dabbled in painting. Last but certainly not least, John was a huge fan of sports, reserving his highest passion for his beloved Chicago Cubs. His lifetime loyalty was at last rewarded in 2016, when the Cubs finally broke the Wrigley curse to win the World Series. Cubs win!
He will be missed dearly by his children and grandchildren, to whom he was an ever-present supporter of all their academic, athletic, and recreational endeavors.

In lieu of flowers, the family humbly requests that donations in John's name be made to any of the following organizations: St. Francis Xavier Catholic Church; Gettysburg College Helen J. Winkelmann Endowed Scholarship; Nature Conservancy, and National Audubon Society.

A Memorial Mass of Christian Celebration will take place on Saturday, October 17, 2020 at 10:00 AM from St. Francis Xavier Catholic Church, Gettysburg, PA. The family will receive friends at Monahan Funeral Home, Gettysburg on Friday, October 16, 2020 from 6:00 PM until 8:00 PM. Online obituary and condolences available at monahanfuneralhome.com.
Read More
Previous Events
Visitation
Monahan Funeral Home
125 Carlisle Street
Gettysburg, PA 17325
Service
St. Francis Xavier Catholic Church
25 West High Street
Gettyburg, PA 17325