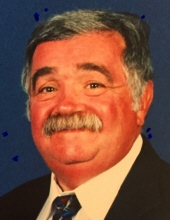 Obituary for Dr. Michael Harris Posner
Dr. Michael Harris Posner passed away on Saturday, October 29, 2016 in Gettysburg, Pennsylvania at the age of 72. Dr. Posner, or "Doc" as his friends affectionately called him, was born in Brooklyn, New York on August 2, 1944. It was his upbringing in New York that fostered his life-long love for the New York Yankees, a love he firmly instilled in his children and grandchildren. Doc left New York to attend college at Wayne State University in Detroit, Michigan, where he earned his Bachelor of Science and Master's Degrees in Microbiology. After college, he met Shirley Abraham; they were married six months later on August 22, 1968 in Monticello, New York, and began their lives together as he continued his education.
Doc matriculated to medical school, choosing the Chicago College of Osteopathic Medicine in Chicago, Illinois. Upon graduation, Doc was commissioned as a captain in the United States Army. He was stationed at Tripler Army Medical Center in Honolulu, Hawaii, where he completed his internship and residency in obstetrics and gynecology. Then, in 1976, the Army sent Doc back to New York: he and his family were stationed at West Point, New York, where Doc served as the Chief of Obstetrics and Gynecology. It was the first year the United States Military Academy admitted women into the school. In addition to his role as Chief of OB/GYN, Doc cherished serving as the Army hockey team's physician.
After honorably serving 14 years of active duty, Dr. Posner joined a private practice in Gettysburg while continuing to serve as an Army reservist. He was called back to active duty in 1990 and served in Operation Desert Storm/Shield. When he returned from Saudi Arabia, Doc worked at Gettysburg Hospital for 30 years as a beloved OB/GYN, delivering hundreds of babies over the course of his career. He also served as a teacher and mentor to many physicians at York Wellspan. Doc had a passion for teaching, and his students gained a wealth of knowledge and experience from his many years as not only a thoughtful, considerate physician, but also a kind, caring person to all he encountered.
Dr. Posner was a distinguished member of the community, actively involved in local sports as a coach and contributor, the Wounded Warriors Project, and the American Legion.
Dr. Posner is survived by his wife of 48 years, Shirley, and his seven children and their families: Chris and his wife, Diane, and their children Alec, Liza, and Nate of Schwenksville, PA; Matt and his wife, Mary, and their children Amelia, Eleanor, Sarah-Jane, and Teddy of West Point, NY; Jenny and her husband, Avery Soderman, and their children Caroline, Susanna, Sam, Josh, and Jacob, of Schwenksville, PA; Jonathan and his wife, Flannery, and their son, Mikey, of Culver, IN; Kathryn of Frederick, MD; Anna and her husband, Jeremiah Vingsness of Harrisburg, PA; and William and his wife, Beverly, and their children, Abraham and Solomon of Gettysburg, PA. He is also survived by his brother, Bruce. He is predeceased by his parents, Jerry and Joann Posner.
Not only will he be remembered for his commitment to our country and his dedicated support and service to his community, Doc will be deeply missed for being a kind, caring, funny, thoughtful, and loving friend, father, and husband.
A memorial service will be held 11:00 AM, Saturday, November 5, 2016 at Christ Chapel on the campus of Gettysburg College with Fr. Lawrence Sherdel officiating. There will be full military honors presented by the Adams County Allied Veteran following the service. The family will receive friends at a reception being held at the Gettysburg Hotel ballroom after the services at the college chapel. The Monahan Funeral Home is assisting the family with funeral arrangements and online condolences may be made at monahanfuneralhome.com.
In lieu of flowers, the Posner Family asks that donations be made to the Wounded Warriors Project, the American Legion Post 202, or the VFW Post 15.
Read More
Previous Events
Service
Gettysburg College Christ Chapel
300 North Washington St.
Gettysburg, PA