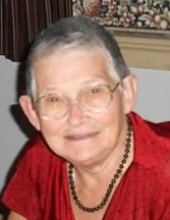 Obituary for Edith Parry Reinhart
Edith Parry Reinhart, resident of Gettysburg, Pennsylvania, formerly of
Rushland, Pennsylvania, passed away on Tuesday, October 1, 2019, at the age of
91 years after a brief illness.

Edie was born into a farm family on July 2, 1928, in Doylestown,
Pennsylvania to Joseph S. and Elizabeth Ely Parry. She graduated from Hatboro
High School in 1945 and went on to attend Ursinus College in Collegeville,
Pennsylvania. She graduated in 1949 with a degree in Health & Physical
Education. While attending Ursinus, she met the love of her life, Kenneth G.
Reinhart, Jr., and they were married on August 20, 1949.

They began their married life in Gettysburg, Pennsylvania, where Edie
began her 41-year teaching career as a Health & Phys Ed teacher at Gettysburg
High School. While at Gettysburg, she was instrumental in the creation of the
Girl's Athletic Association (GAA) and girls' sports programs, mentoring many
young women along the way. She coached field hockey and volleyball, was a
cheerleader advisor, and helped form the Fellowship of Christian Athletes. She
and Ken were avid Gettysburg High Wrestling fans. She was inducted into the
Adams County Sports Hall of Fame in 2002.

The Adams County 4-H program was another of her passions. She
contributed greatly to growing the 4-H program in Adams County through the
creation of local clubs, advising the 4-H Senate and chaperoning countless 4-H
Exchange trips. Her community involvement included the Gettysburg Lion's Club,
Adams County Homemaker's, the Gettysburg Garden Club, American Red Cross
volunteer, Girl Scout Leader, participation in many bridge clubs and she had a
wide circle of friends.

She was a member of the Gettysburg United Methodist Church. As a young
mother, Edie was active in WSCS (Women's' Society for Christian Service), which
later became the United Methodist Women and started a young mother's circle.
She served on numerous committees within the church and sang in the choir.

Edie loved to travel, often with grand children in tow. Family camping trips were a great joy to her. She had a huge garden, freezing and canning much of the
produce. She loved her farm but also loved her red cottage in Sugar Run. She was
an excellent seamstress, sewing for herself and others. Her happiest moments were
spent surrounded by her family. Ken and Edie were married for 64 years. Her cat,
Moe, provided great comfort to her in her later years.

Edie will be sadly missed by her children, Deborah Reinhart (David Geiser),
New Holstein, Wisconsin, William Reinhart (Jennifer), Vienna, Virginia, Patricia
Murren (Terrence), New Oxford, Pennsylvania and Nancy Routch (Mark), Boiling
Springs, Pennsylvania. 13 Grandchildren – Ian Reinhart Geiser (Lauren Pavlov),
Joshua Reinhart Geiser (Heather), Adrian Reinhart Geiser (Donielle), Nathan
Reinhart, Adam Reinhart, Eric Reinhart, April Reinhart, Emily Reinhart, Jesse
Murren (Brianne), Jonathan Murren (Breanne), Joseph Murren, Jordan Routch
(Carrie) and Allison Canterbury (Ralph). 11 Great-children – Nevaeh and Bentley
Geiser, Ronen Geiser, Alexander, Lydia and Andrew Murren, James Murren,
Timothy, Charlie and Wesley Routch and Owen Canterbury. Also missing Edie is
Marian Hartman, who held a special place in Edie's heart. She was predeceased by
her husband, Kenneth G. Reinhart, Jr and brothers Edward R. and Laurence G.
Parry.

A memorial service will be held on Monday, October 21, 2019 at 11:00
am at the Gettysburg United Methodist Church, with Rev. Marian Hartman, officiating Visitation will be held at the church on Sunday,
October 20, 2019 from 3:00 – 6:00 pm and 9:00 – 11:00 am on the day of the service.
In Lieu of flowers, memorial donations may be made to 4-H Clubs of Adams County, 670 Old
Harrisburg Road, Suite 204, Gettysburg, Pennsylvania,17325-3404; The
Gettysburg United Methodist Church, 30 West High Street, Gettysburg,
Pennsylvania, 17325 or Lions Clubs International Foundation, 300 W. 22nd
Street, Oak Brook, Illinois, 60523. Online tributes and condolences can be made at monahanfuneralhome.com.
Read More
Previous Events
Visitation
Gettysburg United Methodist Church
30 West High Street
Gettysburg, PA 17325
Visitation
Gettysburg United Methodist Church
30 West High Street
Gettysburg, PA 17325
Service
Gettysburg United Methodist Church
30 West High Street
Gettysburg, PA 17325