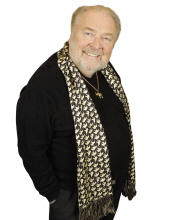 Obituary for Edwin "Mister Ed" Lee Gotwalt
This, too, shall pass. That's the sentiment the ever-optimistic "Mister Ed" Edwin Lee Gotwalt would pass on to anyone grieving his loss on Friday, February 26, 2021, of natural causes. The date also marks his 54th wedding anniversary to his treasured wife, Patricia Gotwalt, and the 46th anniversary of the founding of his famed attraction, Mister Ed's Elephant Museum & Candy Emporium in Orrtanna.
He was born on May 20, 1936, in a small home on Jackson Street in York, PA, to Edwin E. Gotwalt and Marie Strausbaugh.
In addition to his wife, Gotwalt is survived by a son J. Michael Taylor and granddaughter and grandson-in-law Nicole and Isaac Bucher, all of Orrtanna. His pride and joy is his great-grandson, Larkin Lee Bucher. He was predeceased by his daughter Tammy Cullison, a brother Danny Gotwalt, and many pets throughout the years, most especially Sam and Mittens.
Gotwalt owned and operated Mister Ed's Elephant Museum & Candy Emporium from 1975 until his retirement in 2014. He and his wife sold the business to their grandchildren and delighted in watching its continued success. Though the business has evolved through the years, his enduring lessons of customer service, reinvention and perseverance continue to guide it.
But Gotwalt wasn't one for retirement and sitting in the passenger seat. He enthusiastically dove into a second career that fulfilled his lifelong passion of public speaking and service. He imparted his hard-learned lessons as an entrepreneur to other business leaders through his "Ten Commandments of Good Business," and after a car accident that nearly cost him his life in 2017, began speaking to community and spiritual groups on "Angels, Miracles, and Other Stuff."
He also lent his knowledge by serving on boards of various organizations, from Destination Gettysburg to Totem Pole Playhouse to the Lincoln Highway Heritage Corridor. He was also a long-time member and former president of the Cashtown Lions Club and Salisbury Jaycees.
Mister Ed is a self-made businessman who started work at just 6 years old selling outdated calendars door-to-door in York city to help his single mother put food on the table. As a child, he worked on farms, sold newspapers, and took care of his mother, not receiving a formal education past the eighth grade. As a teenager, he took a job with Giant Food Stores in Washington, D.C., then a small grocery chain, where he worked up the ranks to become a store manager. He left the grocery business briefly to operate businesses in Salisbury, MD. There he opened The Hut, a much-loved pizza and sub take-out shop, and the Casa Del Ray, a restaurant and motel, before returning to Giant.
Once again following his entrepreneurial spirit, Gotwalt moved back to his home state of Pennsylvania and opened Mister Ed's: The Area's Most Unusual General Store, just down the road from the current store. The original Mister Ed's enjoyed much success as a community gathering place where locals would come for food and fellowship at the snack bar and to see curiosities, like a small elephant collection.
Mister Ed became quite a local character, staying up 76 hours to celebrate the nation's bicentennial and staging 4th of July firework displays and Santa Claus arrivals. Each year, Santa would arrive by different means, including a fire engine, six-horse hitch, and hot air balloon. The hot air balloon arrival made international headlines, as Santa Claus crash-landed in tree boughs high above Caledonia State Park.
Always a dreamer, Gotwalt re-invented Mister Ed's as an elephant museum and candy emporium at its current location on Feb. 26, 1983. As the business grew, and it became known as a must-see destination, Gotwalt added rooms and an ever-changing stock of unique candy and gifts.
Ed and Pat spent much of their life with Mister Ed's on the road. At the peak, the pair was selling candy and peanuts at 42 different events as far away as Georgia and Michigan. Closer to home, they participated in the National Apple Harvest Festival, Gettysburg Reenactment and York Fair.
Some of his fondest memories come from being on stage at Totem Pole Playhouse, and being part of films like the "Route 30 Trilogy" and "Father and the Bear," by longtime friend John Putch.
Everyone knows Mister Ed, but few know the real Eddie Lee. At every turn throughout his life, he experienced the lowest lows that would bring other men to their knees. Even in the face of the unthinkable, he was unsinkable. But he also relished in the highest highs, always knowing with absolute certainty they would come. He possessed a child-like optimism and saw good everywhere he went. He was a gambler, who knew that big risks brought big returns. He was generous and loyal to a fault. He was a traveler, not a tourist, who was most alive when exploring the world and finding off-the-beaten-path gems that few dared to discover. His favorite places were the tiny island of St. Martin and the Theatre District of Manhattan. He was fed by theater, and made many friends through the years. To him, all the world was a stage, and he used his talents at every opportunity to do good and bring joy to people. Most of all, he fiercely loved his family.
A celebration of life service is being planned for late spring at Lower Marsh Creek Presbyterian Church, where he was a member and sang in the choir.
Arrangements have been entrusted to Monahan Funeral Home.
In his memory, the family recommends donations to his beloved Totem Pole Playhouse, P.O. Box 603, 9555 Golf Course Road, Fayetteville, PA 17222.
Condolences may be sent to his family at 6019 Chambersburg Road, Orrtanna, PA 17353.
Read More