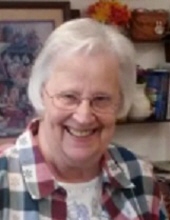 Obituary for Eileen J. Aronhalt
Eileen J. Aronhalt, 81, Aspers, PA passed away on Saturday, December 31, 2022 at the Gettysburg Hospital.
She was born May 17, 1941 in Ohio the daughter of the late Wilfred Aronhalt and Marguerite Lopp.
Eileen had many careers throughout her lifetime. She found great joy working with various sutlers and Civil War Reenactors in the Gettysburg, PA area for over 20 years. She helped design Civil War era clothing and memorabilia. She also coordinated various events including Civil War weddings, tea parties and other era events. She was an avid reader and enjoyed needlework.
Ms. Aronhalt is survived by four children; Lee Stoermer and his wife Amanda of Virginia, Eric Stoermer and his wife Brenda of PA (with whom she resided), Sheri Parillo and her husband Dan of Colorado, Dr. Scott Taylor Stoermer and his wife Emily of Rhode Island, 9 grandchildren, 2 great grandchildren with a third expected in May of 2023. She is also survived by a sister, Sue Meile of Maryland. She is predeceased by brothers Kenneth, Lee, Ray, Jay and sister Joan Woolford. Eileen loved her large extended family which includes many nieces and nephews.
Eileen was very proud of her four children who all served in the U.S Military and have had successful careers after; Lee Stoermer-United States Marine Corps and a lifetime of firefighting, Eric Stoermer -United States Marine Corps and a career with the US Government, Sheri Parillo-United States Air Force followed by a successful nursing career as a NICU nurse, Dr. Scott Taylor Stoermer -United States Army followed by a career in History Education.
Service will be private and at the convenience of the family. Memorials can be made to the Adams County Library System, 140 Baltimore Street, Gettysburg, PA 17325. Online obituary and condolences available at monahanfuneralhome.com.
Read More
Events