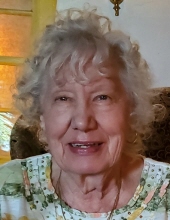 Obituary for Elizabeth A. "Betty" Wills
We mourn the loss of Elizabeth A. (Betty) Wills who passed away peacefully in her home with her son Michael and daughter Carol by her side. She was preceded in death by her son Richard in 2012. Betty was a long time resident of Lakeside Dr. In Levittown for over 50 years. She joined the Air Force right out of High School, where she met her husband, Kenneth R Wills, who sadly died at the early age of 42 in December of 1970. Betty never re-married, but was the long time companion of Fred Maines, who still resides in his home in the Farmbrook section of Levittown.

Betty was a long time member of the Christ United Methodist Church on Wistar Road. She had many church friends that she would socialize with and enjoyed playing domino's, going to birthday luncheons and bus trips to the Atlantic City Casino's.

Betty loved flowers and gardening, but her greatest joy was travel, especially to family events. She never wanted to miss a graduation, wedding, baby shower or birthday celebration.

Betty will be laid to rest next to her husband in Gettysburg National Cemetery. Funeral services will be held at Monahan Funeral Home in Gettysburg. There will be a viewing on Sunday March 7th from 2-4 pm with burial on Monday March 8th at 11:00am. All are welcome to attend. Hotel rooms are available at the Wyndham Hotel for $79 per night. Funeral Luncheon will be at the Wyndham Hotel following services. Please let the family know if you will be attending.


Previous Events
Visitation
Monahan Funeral Home
125 Carlisle Street
Gettysburg, PA 17325
Graveside
Monahan Funeral Home
125 Carlisle Street
Gettysburg, PA 17325