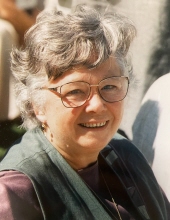 Obituary for Else Mulder Membreno, MD
Else Mulder Membreño, MD, passed away on July 22, 2022, at the age of 90, with her daughter, Denise Membreño Royer, and granddaughter, Sofia Ann Royer, by her side. Predeceased by her husband, Denis Membreño, MD, she is survived by her four children and nine grandchildren. Else lived with her daughter and her family in the Gettysburg area for the last six years.

"Oma" (meaning grandmother in Dutch) was born on April 23, 1932, to Edgard and Dorothea Mulder on the island of Surabaya in the Dutch East Indies. Prior to the start of World War II, her father, a Dutch National, worked as an accountant and manager of the bookkeeping department for a tobacco firm with operations in what is now the sovereign nation of Indonesia.

During the Imperial Japanese occupation of the Dutch East Indies from 1942 to 1945, Else, her younger brother Jan Frits and sister Thea were interned on the island of Java with their mother in a concentration camp for women and children. They were separated from their father who was in the men's camp. Her early life of colonial privilege replete with maids, servants and race-based class distinctions was now one of deprivation; no soap, little water and a family-shared fork and spoon. During the last year of captivity, they licked their plates clean from hunger and having no water to clean them. Else would spend her entire adult life attempting to eradicate the vestiges of her colonial early years.

While captive, Else, being the oldest, took care of her siblings and her mother, who struggled with their drastic change in circumstance. Her brother was her main charge and they would remain close their entire lives.

Else remembered waking up one morning to find that all the Japanese guards had left in the night. Eventually American soldiers came to the camp with the news of Hirohito's surrender and the end of the war.

Slowly, Else, and thousands of other Dutch expats, now refugees of the global conflict, began the long journey back to the Netherlands, a country many of them had never known. The family's first stop was in Hong Kong, and then Singapore. While there, she was the only white child in an English-speaking school with Eurasian and Chinese students. Old for her grade (but already an adult in many ways) with little-to-no English, she thought her Chinese name was "Keep Quiet" as that was mostly all her teachers said to her. Eventually, sea passage on a Danish freighter was secured to the Netherlands via Thailand.

It would be an unwelcome homecoming for Else and many others as the Holland-raised Dutch were reeling from the European conflict and the government was unable to immediately address the influx of countrymen who had only experienced the war in Asia. The recipient of much resentment in Holland and unaccustomed to the formalities of proper Dutch society, Else never felt at home, a restlessness that would stay with her.

On September 19, 1961, after completion of medical school at the University of Amsterdam, Else boarded the New Rotterdam and made her way to the new world and a new life in the United States. In 1962, she bought a $99 Greyhound bus ticket to travel across the country for 99 days to explore this land that had always intrigued her.

Else began her medical career at Doctors Hospital on the Upper East Side of New York, New York, where she met her future husband, a dashing young surgeon from Nicaragua. After residencies together in Englewood, New Jersey and Detroit, Michigan, they settled down in Parsippany, New Jersey in 1970,

where they raised their four children and shared a successful private practice for the next 30 years. Else also led the Family Practice Department at St. Clare's Hospital in Denville, New Jersey, being the first woman in the institution's history to serve as a department chair.

In 1980, Else and Denis purchased a modest vacation home on Martha's Vineyard where they would eventually spend their post-retirement years. She would later confess that the island was the only place she ever felt truly comfortable. Never idle, Else worked with geriatric patients, volunteered on community health committees, learned to paint, taught flower arranging and sold bouquets at the Farmer's Market. Always a fantastic cook of Dutch, Spanish and Indonesian cuisine, she became an accomplished gardener, was a prolific knitter and writer, and gave freely to the local Latin community. Fluent in at least three languages, she and Denis loved to travel together, spend time with their children and grandchildren, and often visited their respective home countries of the Netherlands and Nicaragua.

In all, Else Membreño, a devout Christian, lived an incredible life full of profound joy, sorrow, obstacles and accomplishments, all of which she met with dignity and grace. She will be admired, missed and remembered for generations to come.

She is survived by her children: Elseke Membreño-Zenteno, Edgard "Poncho" Membreño, Philip "Chico" Membreño, and Denise Maryke Royer; their spouses: René Zenteno, Jessica Burton, Beatriz Gómez and Paul B. Royer; and much-beloved grandchildren: Mariana, Alfonso and Dalex Zenteno; Elisa and Gabriela Membreño; Isabela and Marco Membreño-Gómez; and Sofia Ann and Maria Corynn Royer.
Read More