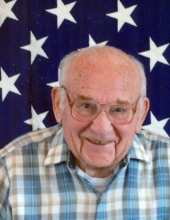 Obituary for Emil R. Adamik
Former Chillicothe resident, Emil Adamik, passed away on March 12, 2016 at the age of 95 in Gettysburg, PA. He was predeceased in death by his wife, Eleanor, in March, 2014.

He is survived by his son, Nelson and his wife Millie, of West Townsend, MA, and his daughter, Janice Hicks and her husband David, of Gettysburg, PA. He is also survived by six grandchildren and thirteen great-grandchildren.

Mr. Adamik was a very proud veteran of World War II having served as a Medic in the European Theater of the war. He was awarded the Bronze Star.

Mr. and Mrs. Adamik were longtime members of the Calvary Baptist church of Chillicothe where they enjoyed serving as librarians for many years.

Private services will take place at a time convenient to the family.