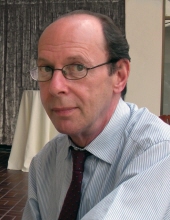 Obituary for Eric D. Lindeman
Eric Lindeman was born Oct 2, 1955 at the Annie M. Warner Hospital in Gettysburg, PA and died in the same hospital (renamed) 65 years later on August 24. 2021. Eric grew up in Gettysburg, the son of Prof. Ralph Donald Lindeman and Antonia Cavicchia Lindeman. His mother died when he was twelve and his father remarried Lani Ellinger Lindeman, who died in 2019.

Eric is survived by his wife, Rita Char Beth Frealing, of Gettysburg, his brother, Les, of Lancaster, PA, his three sons, Ian, of Dresden, Germany, Gavin, of Atlanta, GA and Cai, of Baltimore, MD, and his nieces Erin Hill of Gettysburg, Leslie Lindeman of Laurel, MD, Carrie Lindeman of Silver Spring, MD and his maternal aunt, Ann Cavicchia Smith, of Cranberry Township, PA.

Eric graduated from Gettysburg High School in 1973. He spent most of his teen-age years organizing and playing lead guitar in numerous high school bands, notably The Rivieras. He graduated magna cum laude from Gettysburg College in 1977. After college he studied English and journalism at the University of Pittsburgh before starting a career in journalism in Knoxville, TN, writing on issues surrounding the Tennessee Valley Authority. From there he took a position at New York Nuclear Corp., where he wrote a book coauthored with Anita Blumenthal on nuclear fuel disposal and recycling. Following that, Eric moved to Washington, DC, where he co-founded International Nuclear Associates, a weekly newsletter for executives and policy-makers in the nuclear energy industry. He concluded his career as a writer for The Energy Daily, published by London-based IHS Markit.

Eric was immensely proud of his three sons with his former wife, Hayley Hoffman, and closely followed their careers. He enjoyed sharing their achievements with his brother on weekly phone calls and forwarding Facebook posts, pictures and newspaper articles about their progress.

Eric married Rita in May of 2020. Although their short marriage was challenged by the pandemic and the long illness of Rita's aunt, Mary "Mickey" Patrick, they found joy in each other's company. They shared a love of politics, music and crossword puzzles and enjoyed poring over The New York Times and Gettysburg Times discussing the news events of the day. Eric was very supportive and encouraged Rita's mayoral candidacy in Gettysburg.

Eric also enjoyed reading, cooking, gardening and listening to classical music. He inherited his father's dry wit and professorial conversational style. And, he bristled when his family members referred to him as "Rick" rather than Eric, though he softened on this notably in his last months. He was a serviceable carpenter, who, again like his father, spent more time imagining the details and culmination of the project than in the actual execution.

He had an extraordinary group of friends. They were diverse, smart, thoughtful, and funny. They took care of one another. And, in spite of Eric's often brooding demeanor, they loved him dearly.

Even as Eric looked forward to a renewed life retiring in Gettysburg with his new wife, he received a diagnosis of cancer in late July and his health deteriorated rapidly.

A celebration of Eric's life will be held at St. James Lutheran Church, 109 York Street, Gettysburg, PA on Sunday, September 12, 2021 at 1:00 PM. The family requests that face masks be worn by anyone wishing to attend. The celebration will be live-streamed at http://www.StjamesGettysburg.com/YouTube

Memorials may be made to the Dr. Ralph D. Lindeman Memorial Fund at Gettysburg College, Office of College Advancement, Box 423, 300 N. Washington St., Gettysburg, PA 17325.
Read More
Previous Events
Service
St. James Lutheran Church
109 York St.
Gettysburg, PA