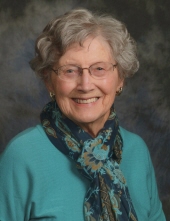 Obituary for Evelyn (Hikes) Waybright
Evelyn (Hikes) Waybright, 93, of Gettysburg, died July 20, 2020 at SpiriTrust Lutheran, the Village at Gettysburg.
Born August 7, 1926 in Gardners, PA, she was the daughter of the late Elmer and Elsie (Bream) Hikes. She was a graduate of York Springs High School. She was married for 63 years to the late Horace H. Waybright.
Evelyn is survived by her son, Jeffrey Waybright of Spring Grove and three daughters, Lucinda and husband Alan Zepp of New Oxford, Melinda and husband Thomas Johnston of Gettysburg, Nadine and husband Robert Nace of East Berlin. She is also survived by eight grandchildren, Kristin Johnston, Julie Dunlop, Brett Johnston, Ryan Zepp, Kara Edwards, Derek Zepp, Kimberly Smith, Trisha Waybright and twenty-one great grandchildren. She is predeceased by brothers, Ralph, George and Clair Hikes and twin sister Ruth Baum.
Evelyn was a faithful member of St. James Lutheran Church and served on church council. Active in the agriculture community, she served as Membership Chairman for the Adams County Farm Bureau and was active on the women's committee. She served on the Adams County Extension Board, participated in the Mr. Joy Homemakers and was a 4-H leader at Barlow 4-H Club.
She was a member of the Republican Women and served as chaplain. She was Past Matron of the Order of Eastern Star Number 392, and Past High Priestess of the White Shrine of Jerusalem.
Funeral services, being handled by the Monahan Funeral Home, will be private and at the convenience of the family. Online condolences may be made at monahanfuneralhome.com.
In lieu of flowers, contributions in memory of Evelyn made be made to St. James Lutheran Church, 109 York St., Gettysburg, PA 17325 or Adams Rescue Mission, 2515 York Rd., Gettysburg, PA 17325.