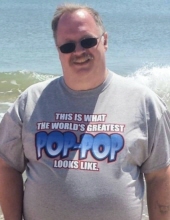 Obituary for Frank Timothy Keefer
Frank Timothy Keefer, 59, of Fairfield, PA died Sunday afternoon, May 17, 2020 at the Gettysburg Hospital.
Born July 15, 1960 in Connellsville, PA, he was the son of the late Frank and Ruth Lorraine (Ritenour) Keefer. He was the husband of Lisa A. (Barker) Keefer of Fairfield, Pa to whom he was married to for 33 years.
Mr. Keefer was a member of Jehovah's Witness. He was a woodworker and enjoyed fishing.
In addition to his wife, Frank is survived by his two sons, Tim Keefer and his wife Amanda, Nathan Keefer, his two grandchildren, Liam and River, his five siblings, Brian Keefer, Patsy Keefer Silvis, Cindy Robey, Mike Keefer, Donald Keefer, and a number of nieces and nephews. He was preceded in death by his sister, Penny Keefer and infant siblings, Julie and Forrest.
Funeral services, being handled by the Monahan Funeral Home, will be private and at the convenience of the family.