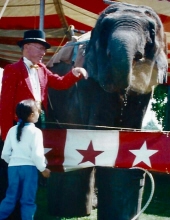 Obituary for Franklin Owen Felt
Franklin Owen Felt

Circus Manager, Intelligence Analyst, and Community Leader



Franklin Owen Felt, 91, a decades long Gettysburg resident who retired from the CIA to run a circus, died of complications from dementia March 6 at the SpiriTrust Lutheran Village in Gettysburg.



A WW II Navy vet and political science PhD whose government career included stints abroad as liaison officer to British and German Intelligence, Frank served in Munich during the Praque Spring and Russian invasion of 1968. He culminated his federal career as Intelligence Liaison to the Chief of Naval Operations, when, at age 49, doctors told him he had terminal cancer and less than a year to live.



Since boyhood Frank had been fascinated by the circus, but with kids in school, it was not until that diagnosis that he decided to take early retirement and pursue his childhood dream of traveling with a show. So, in the summer of 1976, he and his wife packed up their two youngest daughters to travel with Circus Kirk, a small tent circus owned by a close friend. Expecting to take tickets and do odd jobs, Mr. Felt soon found himself thrust into the job of general manager when the owner had a severe heart attack. Mr. Felt took the show out for several seasons, as his doctors' prognosis proved wrong and was forgotten in the 24/7 rhythm of setting up and taking down the show in a new town almost every day. Despite the grueling schedule and constant stress of dealing with mechanical breakdowns, severe weather and supervising dozens of performers and other personnel, he loved every minute. Eventually, Mr. Felt moved on to Roberts Brothers Circus where he served as general agent for over two decades, including one season as ringmaster, until the show closed. During this time, his circuses became annual events in Gettysburg, helping to raise funds for Friends of the Library.



Mr. Felt was also known for his community leadership. Soon after moving to Gettysburg in1976, he discovered that a local factory was polluting his neighborhood's wells with toxic chemicals. In response, he organized and served for four years as president of Good Neighbors Against Toxic Substances (GNATS), a grass roots organization that "bugged" state and federal officials and, ultimately, obtained Superfund status for three sites in the area and achieved a court settlement that extended city water service to hundreds of people with polluted wells and paid millions in damages to local homeowners. Earlier, he served for two years as PTA President of Kent Gardens Elementary School in McLean VA, where he led a successful campaign to overturn a county board decision to close the school.



Survivors include his wife of 70 years, Janice Felt of Gettysburg; three daughters, Nancy, Karen, and Lisa; a son, David; nine grandchildren and two great granddaughters.



A celebration of Frank's life will be held at 2:00 PM on May 19, 2018 at SpiriTrust Lutheran Village, 1075 Old Harrisburg Rd., Gettysburg PA.
Read More
Previous Events
Service
SpiriTrust - Gettysburg Village
1075 Old Harrisburg Road
Gettysburg, PA 17325