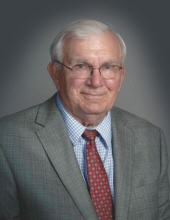 Obituary for Frederick John Horak
Fred Horak, beloved husband, father, grandfather, brother, and uncle passed away Thursday, January 12 at UPMC Harrisburg Hospital in Pennsylvania. He was 84 years old.
He was born Frederick John Horak in 1938 in Vandergrift, Pennsylvania, to the late Frederick and Gertrude Horak, nee Kreuz. He was the oldest of four siblings. Fred felt a calling to serve God and others, and as Brother Germaine, he attended Holy Trinity Mission Seminary in Winchester, Virginia. While there, he met the love of his life, his forever bride, Joan. After leaving the seminary, Fred graduated from Marquette University in Business.
Fred and Joan married in 1967. They had two children, Jim and Ingrid; and his work as a secondary mortgage vice president for Fannie Mae would take them from Wisconsin to Maryland and then later to Texas. Fred was a great supporter of scouting and devoted a great deal of time to Troop 64 in Dallas. Eventually, he traded his suits and ties for denim and work gloves and retired to their land in Lucas, Texas that he and Joan named St. Jude's Farm. That land became home to generations of sheep, horses, chickens, dogs and cats, and even the occasional soul that needed sheltering for a bit.
But St. Jude's became best known for the majestic four-horned Jacob Sheep that would wander its fields. Fred and Joan became conservators of the breed and actively supported the Livestock Conservancy. It was through this commitment that Fred's scientific curiosity led to the discovery that the sheep carried a genetic defect and could be used to model Tay-Sachs disease for medical research. This breakthrough was heralded by the scientific community seeking to eliminate this devastating genetic disorder in children. He worked with Auburn University, the New York City Medical Center, and Tufts University, spending 20 years breeding sheep for this cause. Fred and Joan were awarded the "Above and Beyond Award" by the National Tay-Sachs and Allied Diseases Foundation (NTSAD) for their dedication to this cause.
Eventually, Fred's love of history led them back east, where he and Joan settled on a farm in Gettysburg. He found a great deal of satisfaction living in a place with so much history and natural beauty. Fred loved his land and returned acres to native wildflowers and grasses as well as planted 1,700 native trees.
Fred was a member of St. James Lutheran Church, and served on the Social Ministry and Racial Justice committee. He spent his last years serving others and the community through his involvement with other groups as well, including the Watershed Alliance of Adams County, C.A.R.E.S, SCCAP, and Ruth's Harvest, to name a few.
Fred is survived by his wife, Joan, his son Jim and wife, Ruth; his daughter Ingrid and husband Brian Sullivan; and his brothers Richard and Thomas Horak. He is also loved and missed by his five grandchildren Ben, Carys, and Zack Horak, as well as Peyton and Miranda Sullivan. Fred was preceded in death by his parents and his sister, Joan.
There will be a visitation at 10 AM and service at 11:00 AM at St. James Lutheran Church in Gettysburg on February 4th. A reception will follow immediately afterwards at the church. In lieu of flowers, considering his years of dedication to the cause, please donate to NTSAD or to any one of the aforementioned local organizations. Online obituary and condolences available at monahanfuneralhome.com.
Fred will be deeply and dearly missed. The world has lost a kind man; but without a doubt, he leaves this world a better place.
Read More
Previous Events
Visitation
St. James Lutheran Church
109 York St.
Gettysburg, PA
Service
St. James Lutheran Church
109 York St.
Gettysburg, PA