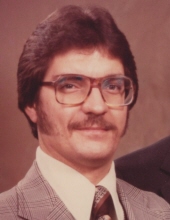 Obituary for Gary E. Redding
Gary E. Redding, 70, of Gettysburg, PA died Saturday morning, December 19, 2020 at Genesis Gettysburg Center.
Born December 2, 1950 in Gettysburg, PA he was the son of the late Edgar Redding and the late Fred and Betty (Musselman) Andrew.
Gary worked for a number of years for Pfaltzgraff in York for a number of years. He was a former member of the Biglerville American Legion. He enjoyed playing bingo.
Gary is survived by his five siblings, Terry Redding and his wife Rachel, of Biglerville, PA, Larry Redding, of Arendtsville, PA, Joel Redding and his wife Belinda, of Aspers, PA, Rita Yingst and her husband Bob, of Gettysburg, PA, Robbie Redding and his wife Sue, of Jacksonville, NC, and a number of nieces and nephews. He was preceded in death by his brother, James Redding.
Funeral services, being handled by the Monahan Funeral Home, will be private and at the convenience of the family. Online condolences may be made at monahanfuneralhome.com.
Read More