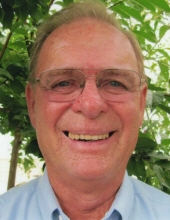 Obituary for Gene R. Motter
Gene R. Motter, 86, of Gettysburg, PA died Thursday afternoon, May 26, 2022 at the Gettysburg Hospital.
Born June 16, 1935 in White Hall, PA he was the son of the late G. Edwin and Ruth (Sheely) Motter. He was preceded in death by his loving wife, Joann (Hench) Motter who died July 13, 2019.
Mr. Motter graduated from Biglerville High School in 1953. He was a Veteran of the United States Army from 1954 to 1956 including a 19 month tour of duty in Japan. He was involved in the trucking industry for 36 years and later founded the Gettysburg Beer Mart in 1993.
He served as an Assistant Scoutmaster and committeeman in Gardner's Boy Scout Troop 75 for 30 years. He was a member of the Upper Adams Lion's Club for 35 years, the founder of the Biglerville High School Alumni Association, and served on the Upper Adams School Board for 10 years. He was a 44 year life member of the Gettysburg Fraternal Order of Elks, continuing as a member of the Hanover Fraternal Order of Elks. He was a member of the Gettysburg American Legion, the Gettysburg Fraternal Order of Eagles, and the Fairfield Amvets. He was a member of Trinity United Church of Christ, Gettysburg, PA.
Gene is survived by his four children, two sons, Gregory G. Motter and his wife Ann, of Biglerville, PA, Eric E. Motter and his wife Jennifer, of New Oxford, PA, his twin daughters, Jill E. Stoner and her husband Michael, Joy E. Weikert and her husband Brian, all of Bendersville, PA, 10 grandchildren, six great grandchildren, and his brother, G. Thomas Motter, of Gardners, PA.
He loved the outdoors and in addition to many other activities, especially enjoyed golfing, tennis, hunting, fishing, gardening, and most of all, in his early years playing numerous activities with his children while they were growing up.
A private memorial service will be held at the convenience of the family. The Monahan Funeral Home is in charge of the funeral arrangements and online condolences may be made at monahanfuneralhome.com.
In lieu of flowers, please consider memorial contributions to Special Olympics Pennsylvania Adams County, Attn: Stacey Rife, P.O. Box 3188, Gettysburg, PA 17325.
Read More